Curried Greens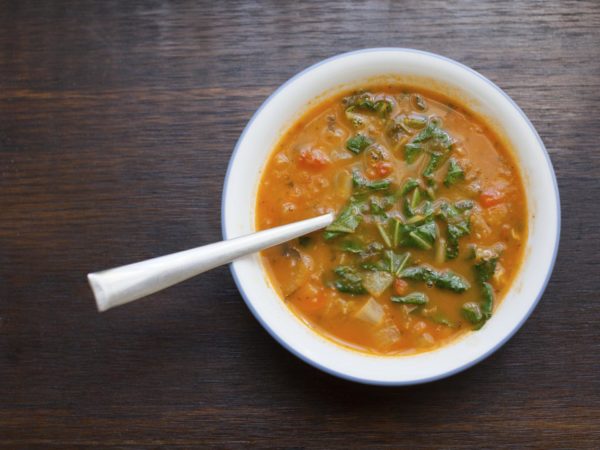 Nutrition
Serves 6
Nutrients Per Serving
Calories: 102.8
Protein: 3.5 grams
Fat: 2.6 grams
Saturated Fat: 0.2 grams
Monounsat Fat: 1.3 grams
Polyunsat Fat: 0.9 grams
Carbohydrate: 18.6 grams
Fiber: 4.1 grams
Cholesterol: 0.0 mg
Vitamin A: 5,138.3 IU
Vitamin E: 2.0 mg/IU
Vitamin C: 39.9 mg
Calcium: 104.1 mg
Magnesium: 76.1 mg
Experiment with varieties of greens you've never tried, you'll be in for a pleasant surprise!
When some people hear the word "greens," they immediately conjure up childhood memories of overcooked canned spinach they were forced to eat and hated. But the vegetable section of the grocery is a different world today, brimming with a variety of greens such as chard, kale, mustard, collards and bok choy that are tasty as well as excellent sources of vitamins and minerals. Iron, calcium and folic acid (an important B vitamin that helps prevent birth defects and offers protection from heart disease) are abundant in these leafy veggies. Greens can have strong tastes, but we encourage you to experiment with varieties you've never tried or haven't had in a while. You'll be in for a pleasant surprise.
Food as Medicine
Turmeric, one of the spices traditionally used to make curry, has a long history of medicinal uses in both Chinese and Indian healing systems. Its anti-inflammatory action has been employed by traditional practitioners to treat conditions including flatulence, jaundice, menstrual problems, toothache and bruises. Greens are among the most healthful additions you can make to your diet, and among greens, kale and collard greens are standouts; almost no other foods offer so much nutrition for so few calories, earning a score of 1,000 – the highest possible – on the ANDI (Aggregate Nutrient Density Index). One cup of cooked collard greens provides almost 45 percent of the Daily Value of folate. This B vitamin counteracts the accumulation of homocysteine, an amino acid that, in high blood concentrations, is associated with an increased risk of cardiovascular disease.
Ingredients
1 pound spinach, kale, collards or beet greens (or mixture of all)
2 cloves garlic, pressed or minced
2-3 tablespoons curry powder
1 cup finely chopped tomatoes (fresh or canned)
1 tablespoon tomato paste
1 tablespoon dark-brown sugar
1 tablespoon expeller-pressed canola oil
1 cup onion, finely diced
3/4 pound brown potatoes, peeled and cubed
1/4 cup chopped fresh cilantro (optional)
Instructions
Wash and drain greens, removing any coarse stems and midribs.
Cut into half-inch strips.
In a small bowl, mix together the garlic, curry powder, tomatoes, tomato paste and sugar.
Heat the canola oil in a skillet and sauté onion over medium-high heat until it begins to brown.
Add the spice-and-tomato mixture, mix well, and cook for a few minutes.
Add the potatoes and 2 cups water.
Mix well, bring to a boil, reduce heat, cover, and cook for 10 minutes.
Add greens and cook for 10 minutes more, or until potatoes are done.
Correct seasoning to taste.
Garnish with the chopped fresh cilantro if desired.