Curcumin Or Turmeric?
I'm confused about curcumin and turmeric. I have the impression that curcumin, not turmeric, has been studied and that you can't cook with curcumin, but you can get it as a supplement that costs about the same as turmeric supplements. If you're going to supplement, which do you recommend, turmeric or curcumin? And why?
– November 1, 2016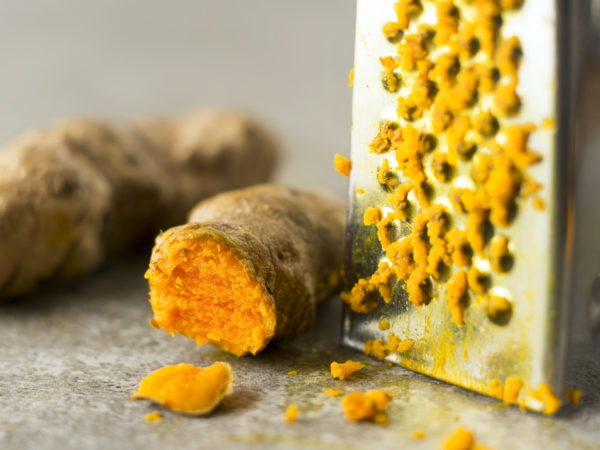 In addition to turmeric as a culinary spice, it has been used traditionally in India as a disinfectant and treatment for laryngitis, bronchitis, and diabetes. Turmeric is derived from the rhizomes (underground stems) of the plant Curcuma longa, a member of the ginger family. It is responsible for the yellow color of Indian curry and American mustard. Curcumin, which has powerful antioxidant and anti-inflammatory properties, is the most active constituent of turmeric, making up between two to six percent of this spice.
Population studies have shown that India – where people consume turmeric regularly – has low rates of Alzheimer's disease. Researchers have speculated that the anti-inflammatory effects of curcumin may be partly responsible. (Alzheimer's begins as an inflammatory process in the brain.) So far, however, I've seen no scientific evidence of benefit from curcumin supplementation in Alzheimer's patients.
Other studies of turmeric and curcumin have shown the following benefits:
Research has shown that turmeric extract can help alleviate pain and improve function in people with osteoarthritis of the knee. There's also preliminary evidence that curcumin may help reduce joint pain and swelling in people with rheumatoid arthritis.
Laboratory studies suggest that curcumin acts as a weak phytoestrogen and seems to have cancer-protective effects.
Lab studies have also shown that curcumin may help prevent or treat several types of cancers, including prostate, breast, skin, and colon cancer.
People in remission from ulcerative colitis who take curcumin are significantly less likely to have the disease relapse than those who don't supplement.
I frequently recommend turmeric supplements, and I believe whole turmeric is more effective than isolated curcumin for inflammatory disorders, including arthritis, tendonitis, and autoimmune conditions. Take 400 to 600 milligrams of turmeric extracts (available in tablets or capsules) three times per day or as directed on the product label. Look for products standardized for 95 percent curcuminoids. Neither curcumin nor turmeric taken orally is well absorbed unless taken with black pepper or piperine, a constituent of black pepper responsible for its pungency. When shopping for supplements, make sure that the one you choose contains black pepper extract or piperine. (If you're cooking with turmeric, be sure to add some black pepper to the food.). Be patient when taking turmeric supplements: the full benefits may not be apparent for eight weeks.
Don't use turmeric if you have gallstones or bile duct dysfunction. Pregnant women shouldn't use it without their doctors' approval. In rare cases, extended use can cause stomach upset or heartburn. Note that piperine can slow the elimination of some prescription drugs including phenytoin (Dilantin), propranolol (Inderal), and theophylline. Some evidence also suggests that curcumin can interfere with certain chemotherapy drugs used to treat breast cancer, so if you're being treated for this disease, be sure to discuss the advisability of taking curcumin with your physician.
Andrew Weil, M.D.
Learn more: Turmeric Health Benefits (my recent article on the Huffington Post).