Easy Eggs In A Cup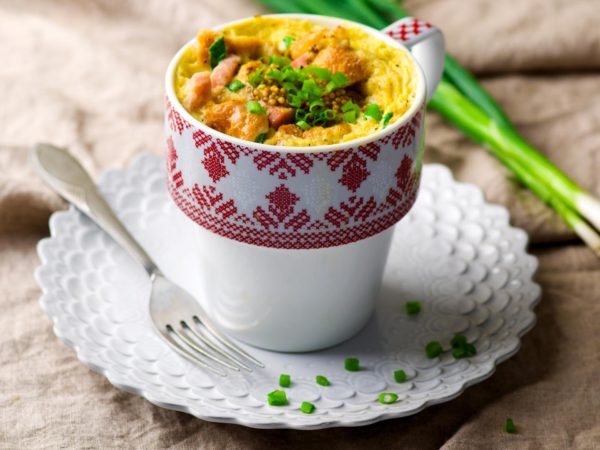 Nutrition
Serves 4
Nutrients per serving:
Calories 252
Protein 12.7g
Saturated Fat 6.5g
Monounsat Fat 2.7 g
Polyunsat Fat .33g
Carbohydrate 6g
Fiber 1.7g
Cholesterol 223mg
Vitamin A IU 1167
Vitamin E .57
Vitamin C 2.2mg
Calcium 203mg
Magnesium 2.2mg
This recipe is courtesy of Dr. Weil's cookbook: FAST FOOD GOOD FOOD.
This is a beautiful, quick dish that is good for breakfast or lunch.
This is a beautiful, quick dish that is good for breakfast or lunch. To avoid a watery end product, make sure the spinach is well dried prior to adding it to the sauté pan, because it will give up a lot of liquid as it cooks. A salad spinner is best for drying spinach quickly and efficiently. For a time-saver, buy prewashed, organic bagged spinach from the market. A Fast Food Good Food exclusive! 
Ingredients
1 tablespoon extra virgin olive oil, plus more for oiling ramekins
Pinch of crushed red pepper flakes
1/2 cups finely diced onion
1 garlic clove, pressed and allowed to sit for 10 minutes
4 cup (about 6 ounces) tightly packed baby spinach
Sea salt
Pinch of freshly grated nutmeg
1/4 cup freshly grated Parmesan cheese
4 eggs
Pinch of freshly ground black pepper
Instructions
1. Preheat the oven to 375°F. 
2. Heat the olive oil in a sauté pan over medium heat, then add the red pepper flakes and onion and saute until the onion is translucent, about 3 minutes. Stir in the garlic and saute for an additional 30 seconds, then stir in the spinach and a pinch of salt and cook until the spinach is wilted and tender, about another 30 seconds. Remove from the heat and stir in the nutmeg.
3. Lightly grease 4 small ramekins with olive oil. For each ramekin, spoon in one-fourth of the spinach mixture, then sprinkle on 1 tablespoon of the cheese. Gently crack 1 egg on top of the cheese, then sprinkle with pepper and a pinch of salt.
4. Bake for 12 to 14 minutes, until very little liquid remains.
5. Let cool for 3 minutes, then run a knife or an offset spatula around the inside edge of each ramekin to loosen the egg. Using your knife or spatula to help support the eggs, carefully transfer to a plate and serve immediately.