Vegetable Frittata With Feta & Dill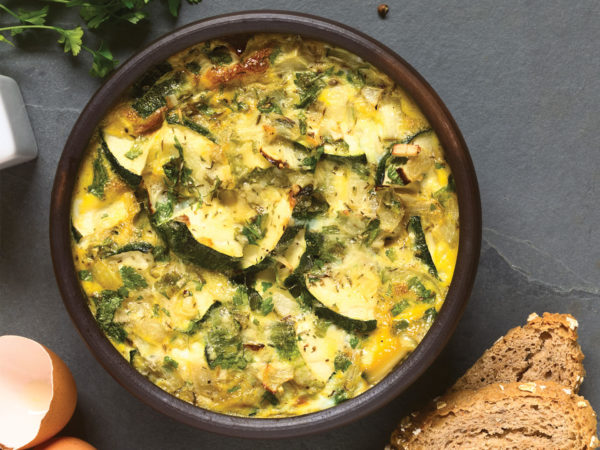 A tasty, versatile fritatta that can be whipped up for brunch, or even for a quick supper after a long day at the office. With a few eggs and some fresh herbs and vegetables on hand you'll be good to go!
A frittata is an Italian egg cake in which various ingredients, from vegetables to meat to pasta, are incorporated into beaten eggs and baked. This vegetarian version has onion, carrot, and zucchini livened up with dill weed and crumbled feta cheese. It can be paired with a salad for a light lunch and also makes a good breakfast dish.
Ingredients
2 tablespoons extra-virgin olive oil
½ onion, diced
½ teaspoon plus 3 pinches of sea salt
1 carrot, peeled and shredded
1 zucchini, shredded
8 large eggs
¾ teaspoon dried dill
¼ teaspoon freshly ground black pepper
6 tablespoons crumbled feta
Instructions
Preheat the oven to 350°F.
Using ½ tablespoon of the olive oil, grease an 8-by-8-inch glass or ceramic baking dish.
In a medium sauté pan, heat the remaining oil over medium-high heat. Add the onions and a pinch of salt. Stir and cook for about 4 minutes. Add the carrots and another pinch of salt. Stir and cook for about a minute. Add the zucchini and a third pinch of salt. Stir and cook for another 2 minutes. Put the vegetables into the greased pan and set aside.
Whisk together the eggs, 1 tablespoon of water, dill, the remaining half teaspoon of salt, and pepper. Pour over the vegetables, then sprinkle the feta over the top.
Bake for about 20 minutes or until the center is just set.
Remove from the oven, cool for a few minutes, then cut into squares. Serve hot or at room temperature.
Excerpted from Fast Food, Good Food, copyright © 2015 by Dr. Andrew Weil. Photography courtesy of Ditte Isager. Used with permission of Little, Brown and Company, New York. All rights reserved.