Barley & Vegetable Soup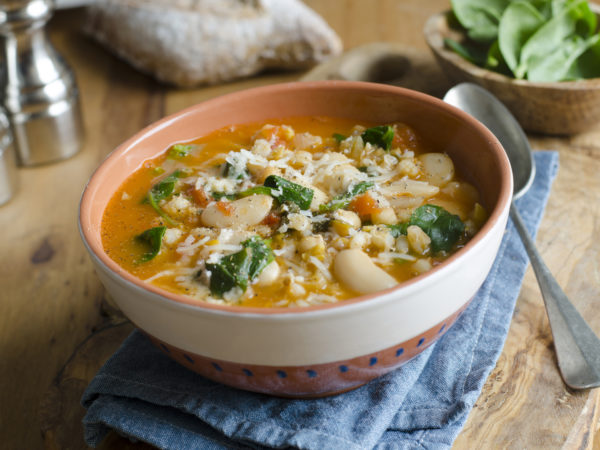 Nutrition
Serves 6
Nutrients Per Serving
Calories: 202.6
Protein: 6.6 grams
Fat: 5.1 grams
Saturated Fat: 0.5 grams
Monounsat Fat: 2.6 grams
Polyunsat Fat: 1.7 grams
Carbohydrate: 33.7 grams
Fiber: 4.6 grams
Cholesterol: 0.0 mg
Vitamin A: 3,465.2 IU
Vitamin E: 0.9 mg/IU
Vitamin C: 4.5 mg
Calcium: 36.7 mg
Magnesium: 40.1 mg
Barley makes this recipe a healthful, old-fashioned and hearty soup that you'll be sure to enjoy!
Barley has been cultivated since the Stone Age and was fermented to make beer soon after. Folk medicine prescribed the use of barley water as a tonic during convalescence. "Pearl" barley is the name of the grain when it's been polished, after the husk and bran have been removed. It's the form most commonly used in soups. Enjoy this healthful, old-fashioned, hearty soup!
Food as Medicine
Barley is high in healthy carbs, has a moderate amount of protein, and contains calcium, phosphorus and B vitamins. With its emphasis on vegetables and absence of meat, this soup is a natural fit for those who want to promote heart health.
Ingredients
3/4 cup pearl barley
11 cups vegetable stock (see recipe for Roasted Vegetable Soup)
2 tablespoons extra-virgin olive oil
1 1/2 cups chopped onion
1 cup chopped carrots
1/2 cup chopped celery
1 cup thinly sliced mushrooms
Salt to taste
1/2 bunch parsley
Instructions
In a saucepan, combine the barley and 3 cups of vegetable stock.
Bring to a boil over medium heat, cover, and simmer for 1 hour, or until the liquid is absorbed.
Meanwhile, heat the olive oil in a large pot and add the onion, carrots, celery, and mushrooms.
Cover and cook the vegetables for about 5 minutes, until they begin to soften.
Add the remaining vegetable stock and simmer 30 minutes, covered.
Add the barley and simmer 5 minutes more.
Add salt to taste and ladle into bowls.
Serve garnished with chopped fresh parsley.