Roasted Vegetable Soup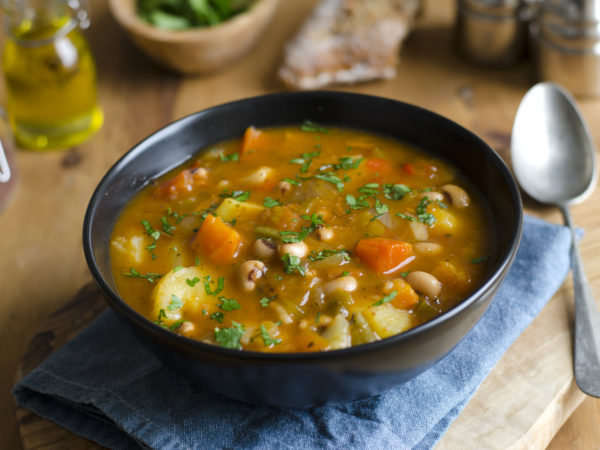 Nutrition
Servings: 4
Nutrients Per Serving
Calories: 91.8
Protein: 1.8 grams
Fat: 4.8 grams
Saturated Fat: 0.7 grams
Monounsat Fat: 3.1 grams
Polyunsat Fat: 0.7 grams
Carbohydrate: 11.5 grams
Fiber: 2.8 grams
Cholesterol: 0.0 mg
Vitamin A: 12,165/IU
Vitamin E: 0.9 mg/IU
Vitamin C: 6.9 mg
Calcium: 40.6 mg
Magnesium: 14.9 mg
The aroma of the roasted veggies will evoke memories of old-fashioned meals, comfort food at its finest!
This delicious, vegetable-filled broth can be served by itself or used as a base for other soups. This recipe oven-roasts the vegetables before adding to the soup liquid, enhancing their flavor. The aroma of the roasted vegetables will evoke memories of old-fashioned, home-style meals. It's comfort food at its finest.
Food as Medicine
Carrots are one of the richest sources of carotenoids, potent antioxidants found mainly in red, orange and yellow fruits and vegetables. A review of six studies looking at the connection between carotenoid-rich diets and prevention of heart disease found a positive correlation; in one of these studies, those who consumed at least one daily serving of carrots or squash had a 60 percent decrease in heart attack risk compared to those eating fewer than one serving. One of the carotenoids found in carrots, beta-carotene, is a potent antioxidant and precursor of vitamin A, making it an essential component of eye health. The liver converts beta-carotene to vitamin A, which travels to the retina and is further transformed into rhodopsin, a pigment that is necessary for night-vision.
Ingredients
3 large carrots, peeled and coarsely chopped
3 stalks celery, coarsely chopped
1 large onion, coarsely chopped
1 tablespoon extra-virgin olive oil
8 cloves garlic, chopped
4 cups water
1/4 cup dried mushroom pieces (Italian porcini, if possible)
1/4 teaspoon dried thyme
Salt, and black or red pepper to taste
Instructions
1. Preheat oven to 500 degrees. Place the carrots, celery and onion in a small (8×8-inch) nonstick pan or dish with the olive oil. Toss to coat the vegetables. Bake for 10 minutes.
2. Remove pan from oven, add the garlic, and toss again. Bake for another 10-15 minutes until the vegetables are browned.
3. Remove pan from oven, add 1 cup of water and stir to loosen any vegetables that may be stuck. Pour this into a pot with the remaining ingredients. Bring to a boil, reduce heat, cover, and simmer for 30 minutes.
4. Season to taste with salt, and black or red pepper, and serve or use as the base for other soups, stews or pasta dishes.
Want more healthy, delicious recipes? Join the Dr. Weil on Healthy Aging online guide for access to hundreds of anti-inflammatory recipes and our exclusive eating guides. Sign up today and get 14 days free!