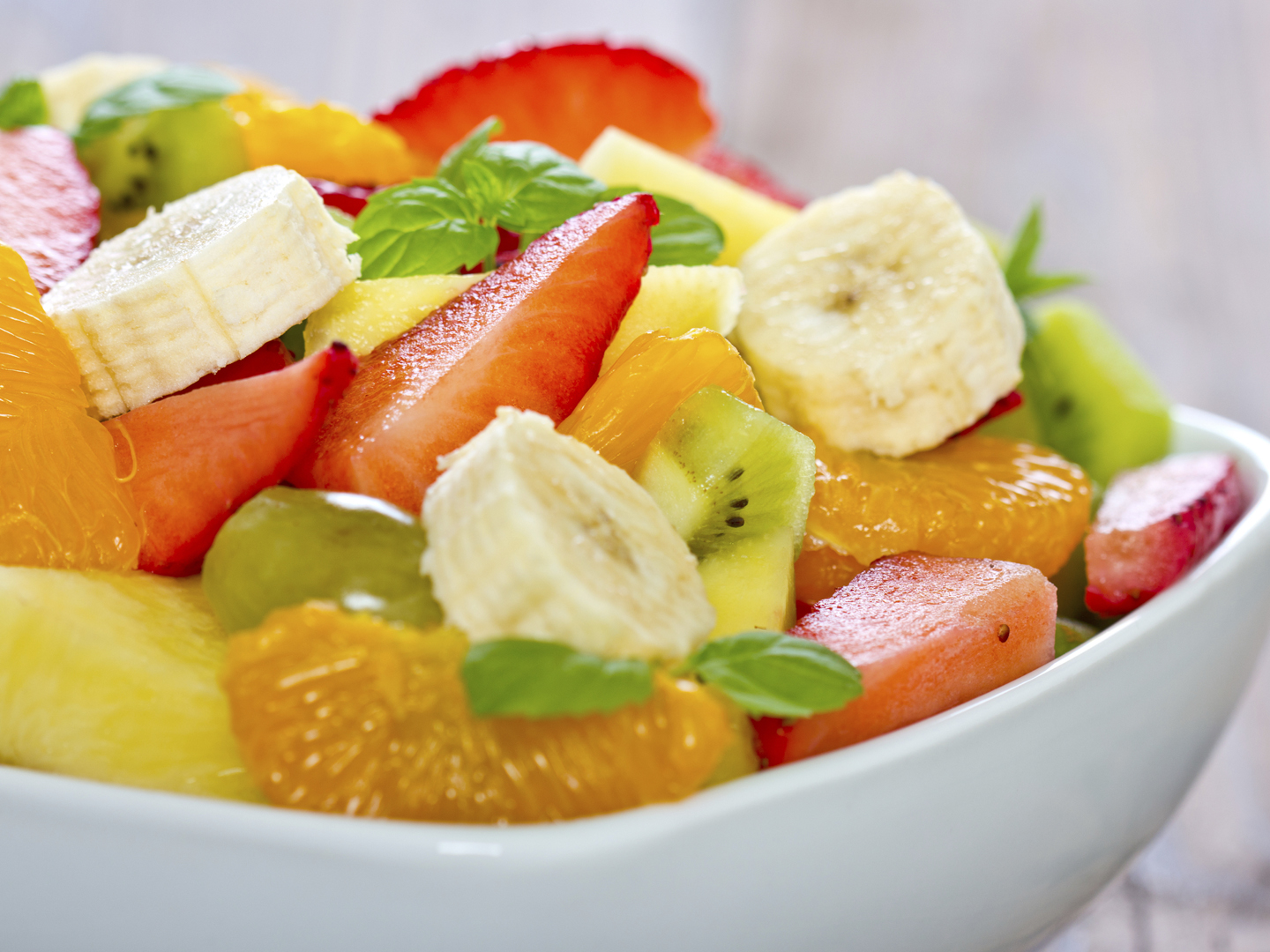 Frosted Orange Ginger Fruit Salad
For the same reasons this fruit salad makes a great breakfast, it also makes a great snack. It is light, naturally sweetened, and smothered in a smooth yogurt and ginger topping. Often, we find ourselves so busy that we quickly grab less-healthy foods to satisfy us. Make this ahead of time and keep it in the refrigerator, or take it to work in a covered container.
Food as Medicine
Both strawberries and grapes are rich in antioxidants – strawberries in the form of phenols such as anthocyanins and ellagitannins; and grapes in the form of polyphenols such as flavonoids, phenolic acids and resveratrol. The high antioxidant content of these fruits gives them their vibrant color and makes them heart-protective, anti-cancer and anti-inflammatory.
Ingredients
2 cups washed and sliced fresh strawberries
2 cups grapes
1 cup washed, cored, and diced apples
3 oranges, peeled, seeded, and cubed
1/4 cup freshly squeezed orange juice (from the 3 peeled, seeded, and cubed oranges)
1 cup plain low-fat** yogurt (optional)
1/2 cup chopped crystallized ginger
2 tablespoons honey
GARNISH
12 sprigs mint
Instructions
Toss all the fruit together in a medium bowl.
Whisk the orange juice, yogurt, ginger, and honey in a separate bowl. Pour the dressing over the fruit. Cover and refrigerate for at least 2 hours to marry the flavors.
Spoon the coated fruit into 12 small dessert dishes or parfait glasses. Garnish each with a sprig of mint.
** In light of recent research, Dr. Weil no longer recommends reduced-fat dairy products unless you happen to prefer the taste.
Want more healthy, delicious recipes? Join the Dr. Weil on Healthy Aging online guide for access to hundreds of anti-inflammatory recipes and our exclusive eating guides. Sign up today and get 14 days free!