Bean Dip With Horseradish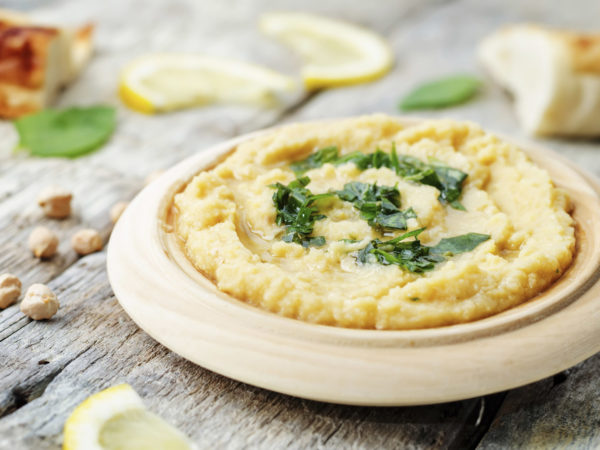 Nutrition
Serves 8
Nutrients Per Serving
Calories: 92.5
Protein: 4.3 grams
Fat: 3.6 grams
Saturated Fat: 0.5 grams
Monounsat Fat: 2.5 grams
Polyunsat Fat: 0.4 grams
Carbohydrate: 11.4 grams
Fiber: 3.0 grams
Cholesterol: 0.0 mg
Vitamin A: 14.4 IU
Vitamin E: 0.5 mg/IU
Vitamin C: 0.8 mg
Calcium: 43.0 mg
Magnesium: 28.7 mg
Hearty beans in this recipe make this dip loaded with protein, fiber, potassium, magnesium and folic acid.
Beans are  a wonderful food – no two ways about it. They are loaded with protein, fiber, potassium, magnesium and folic acid. They have a very beneficial effect on blood sugar and they taste great. There are many ways to use beans – from chili to soup to tasty dips scooped up with raw vegetables, whole-grain crackers or pita triangles. Beans and legumes are also one of the foods that work well from a can, saving the time and effort of presoaking. Lower-sodium versions are also available. For those of you who enjoy the aroma of a big pot of beans simmering on the stove, however, keep cooking from scratch!
Food as Medicine
A tablespoon of prepared horseradish has no fat and just six calories. Prepared horseradish can be substituted for butter and salt as a vegetable topper in many dishes, making it an excellent weight-loss tool. Extra virgin olive oil is a good choice for your heart. A study published in the journal, Clinical Cardiology found that, all other lifestyle and family history variables aside, those who consumed only olive oil as their dietary fat (consuming olive oil along with other fats did not produce the same results) had an almost 50 percent reduction in heart disease risk. Many of extra virgin olive oil's heart-protective properties are probably due to its high concentration of polyphenols, antioxidants with anticoagulant and anti-inflammatory activity, especially the oleocanthal found in high quality extra virgin olive oil that gives the oil its peppery bite.
Ingredients
2 cups cooked beans (cannellini, pinto or Great Northern)
2 tablespoons extra-virgin olive oil
1 tablespoon prepared horseradish
2 scallions, trimmed and minced
Salt to taste
Instructions
1. Combine beans, olive oil, horseradish and scallions in a blender or food processor and blend until smooth, adding a little water if necessary.
2. Season with salt to taste.