Spaghetti With Tuna Puttanesca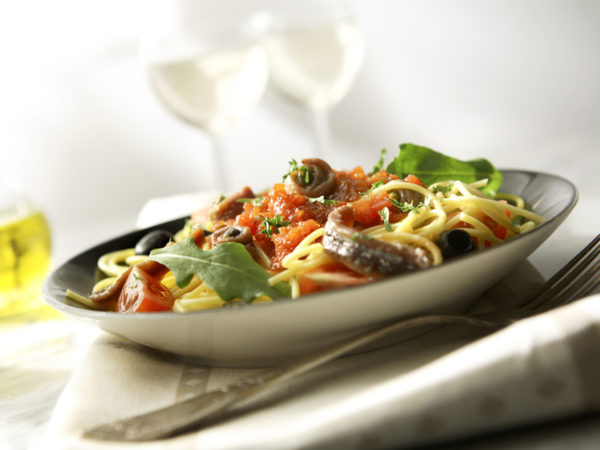 Nutrition
Makes 4 servings
Nutrients Per Serving:
Calories 691.4
Fat 19.5 grams
Saturated Fat 3.6 grams
(25.7% of calories from fat)
Protein 39.8 grams
Carbohydrate 87.2 grams
Cholesterol 31.7 mgs
Fiber 4.5 grams
This recipe is courtesy of Dr. Weil's cookbook: True Food: Seasonal, Sustainable, Simple, Pure.
Puttanesca is a typical Southern Italian tomato sauce. This one is made with chunks of fresh pan-seared Ahi and spaghetti which makes this a must-try dish!
Puttanesca is a Southern Italian tomato sauce flavored with anchovies, garlic, caper and hot red pepper flakes. This version incorporates fresh, pan-seared Ahi. Try it with spaghetti and garnish with a generous sprinkling of chopped herbs – parsley, basil and oregano – for color contrast. A True Food Kitchen  recipe.
Food as Medicine
Garlic offers many cardiovascular benefits. It is rich in polysulfides, molecules that, as the name suggests, contain sulfur. Within blood cells, polysulfides are converted to hydrogen sulfide, a gas that can trigger blood vessel dilation and thus lower blood pressure.
Ingredients
1/2 cup pitted Kalamata olives
2 tablespoons capers, rinsed
3 garlic cloves, mashed
2 to 3 anchovy filets
1 teaspoon red pepper flakes (or more to taste)
1/4 cup extra-virgin olive oil
1 pound spaghetti
4 (3-ounce) pieces Ahi, diced
2 cups Classic Tomato Sauce
1/4 cup chopped basil, oregano and Italian parsley
1/4 cup grated Parmigiano-Reggiano
Instructions
Put the olives, capers, garlic, anchovies, red pepper flakes and 2 tablespoons olive oil in a food processor. Pulse just until coarsely mixed. Transfer to a bowl, cover and set aside.
Bring a large pot of salted water to the boil. Add the spaghetti and cook until al dente, about 6 to 8 minutes. Pour through a colander to drain.
While the spaghetti is cooking, heat the remaining 2 tablespoons olive oil in a large pot until it shimmers. Add the olive-caper mixture and the tuna. Sauté for 2 to 3 minutes, until tuna just begins to lose its pink color.
Add the tomato sauce to the tuna and cooked until heated through. Add the spaghetti and toss to coat with the sauce. Divide among warm pasta bowls and garnish with the chopped herbs and cheese before serving.