Classic Tomato Sauce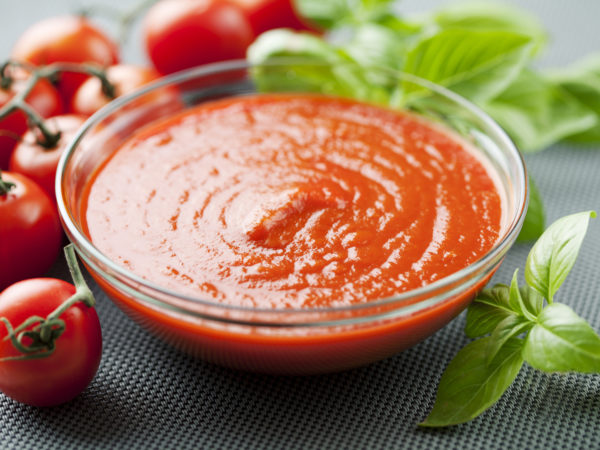 Nutrition
Makes 3 Cups
Nutrients Per Serving:
Calories 274.4
Fat 13.8 grams
Saturated Fat 1.9 grams
(44% of calories from fat)
Protein 7.6 grams
Carbohydrate 31.8 grams
Cholesterol 0 mgs
Fiber 8.2 grams
This recipe is courtesy of Dr. Weil's cookbook: True Food: Seasonal, Sustainable, Simple, Pure.
This recipe calls for Italian San Marzano canned tomatoes and is perfect for many dishes!
San Marzano tomatoes from Italy are the best canned tomatoes for cooking. Take the time to find this type, you won't be sorry! Feel free to double the recipe and keep it on hand to make pasta dishes, soups, and stews. A True Food Kitchen exclusive! 
Food as Medicine
While the causes of a given incidence of cancer are not always clear, research indicates that chronic inflammation and oxidative stress are often contributors. While lycopene gets the most press, tomatoes offer an array of flavonones, flavonols, carotenoids, glycosides and other antioxidant nutrients that work together to provide protective benefit. Tomatoes are also excellent sources of vitamin C, vitamin A and vitamin K.
Ingredients
1 tablespoon extra-virgin olive oil
3 garlic cloves, minced
1 (28-ounce) can San Marzano tomatoes, chopped, with juice
1 teaspoon salt
1/4 teaspoon ground allspice
Pinch of freshly ground black pepper
2 tablespoons chopped fresh basil
1 tablespoon chopped fresh oregano leaves
Instructions
Heat the oil in a saucepan over medium heat. Add the garlic, reduce the heat to low, and cook for two minutes, stirring constantly.
Add the tomatoes, salt, allspice, pepper, basil, and oregano. Bring to a simmer, and simmer for 20 minutes.
Allow the sauce to cool for 20 minutes, then transfer to a blender. Hold the lid down firmly with a clean, folded towel over it. Start on low speed and blend until it is a smooth sauce.
Transfer to a lidded container and refrigerate for up to five days, or freeze for up to three months.
Want more healthy, delicious recipes? Join the Dr. Weil on Healthy Aging online guide for access to hundreds of anti-inflammatory recipes and our exclusive eating guides. Sign up today and get 14 days free!