Spaghetti Squash Casserole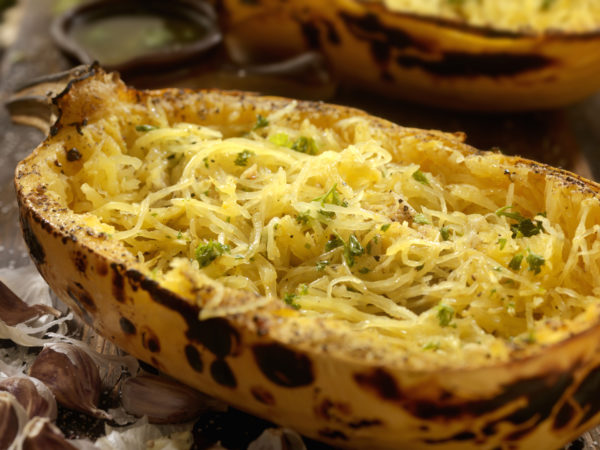 Nutrition
Serves 8
Nutrients Per Serving
Calories: 266.6
Protein: 16.9 grams
Fat: 13.1 grams
Saturated Fat: 6.4 grams
Monounsat Fat: 5.2 grams
Polyunsat Fat: 0.8 grams
Carbohydrate: 22.4 grams
Fiber: 4.9 grams
Cholesterol: 27.9 mg
Vitamin A: 7,879.7 IU
Vitamin E: 1.5 mg/IU
Vitamin C: 57.9 mg
Calcium: 476.1 mg
Magnesium: 49.3 mg
This vegetarian casserole is low in calories and very satisfying as a main dish with a mixed green salad!
Spaghetti squash may look funny, but it's chock full of vitamins and minerals, especially carotenes – so don't be afraid to try it. This vegetarian casserole is low in calories and fat, and very satisfying as a main dish. Add a mixed green salad and some whole grain bread and you've got a great meal. Begin by boiling or baking a spaghetti squash like this one, and you are on your way to a delicious, satisfying vegetarian main course.
Food as Medicine
Spaghetti squash, like all winter squash, may be particularly good for men. Juice from winter squash has been shown to help reduce symptoms of the enlarged prostate condition known as benign prostatic hyperplasia, or BPH.
Ingredients
1 spaghetti squash
2 large carrots, diced
2 stalks celery, diced
1 large yellow onion, diced
1 red bell pepper, diced
2 tablespoons extra-virgin olive oil
1 large can (28 ounces) crushed tomatoes
Red pepper flakes
1 teaspoon dried basil
1/2 teaspoon dried oregano
Pinch of ground allspice
3 cloves garlic, chopped
3/4 pound part-skim mozzarella
1/2 cup grated Parmesan cheese
Instructions
Place the spaghetti squash in a large pot of water (it should float) and bring to a boil.
Lower heat, cover and boil gently for 50 minutes.

(Another cooking option is to bake the squash first. Cut it lengthwise and place the halves skin-side down in a baking dish with an inch of water. Cover the dish with foil and bake at 350º F for about 45 minutes, or until meat is tender.)

While squash is cooking, peel and slice the carrots, celery, onion and bell pepper.
Heat olive oil in a skillet and add the onion and carrot, with some water to prevent sticking. Sauté over medium heat for 5 minutes.
Add remaining vegetables with some red pepper flakes and a dash of salt, if desired. Sauté, stirring frequently, until vegetables are barely tender, about 10 minutes.
Add crushed tomatoes, basil and oregano to taste, and a sprinkle of ground allspice.
Squeeze in 2-5 cloves of garlic.
Simmer uncovered for 15 minutes.
Meanwhile, grate the mozzarella and Parmesan.
Remove squash from pot or oven and allow to cool until you can handle it. If it is whole, cut it in half lengthwise, then remove seeds with a spoon and squeeze any excess water out of meat.
Remove meat and break it up into strands with a fork or potato masher.
Mix squash well with vegetables and put half in the bottom of a large baking dish.
Top with half the cheeses, the rest of the squash, and then the rest of the cheeses.
Bake for 30 minutes or until cheese is bubbly and slightly browned.
Let cool 15-20 minutes before serving.