Greek Salad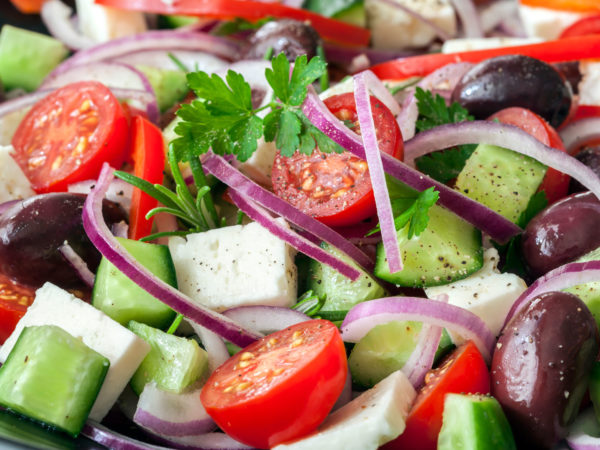 Nutrition
Makes 4 to 6 servings
Nutrients Per Serving:
Calories 184.4
Fat 11.3 grams
Saturated Fat 6.7 grams
(52.8% of calories from fat)
Protein 8.3 grams
Carbohydrate 14.5 grams
Cholesterol 37.9 mgs
Fiber 4.1 grams
This recipe is courtesy of Dr. Weil's cookbook: True Food: Seasonal, Sustainable, Simple, Pure.
Garden tomatoes, cucumbers, vegetables and your choice of feta make this a delicious dish for lunch or dinner!
Make this only with the ripest garden tomatoes. If your cucumbers are young, you can leave the immature seeds in; otherwise scrape out the seed cavities. The vegetables should be in sizable chunks for this salad. Many varieties of feta are available: Some are sour, some salty, some creamy and some are very creamy and mild. Try different kinds to find the one you like most. A True Food Kitchen exclusive! 
Food As Medicine
The lowly cucumber may seem like the least exciting member of this culinary cast, but cukes provide flavonoids, lignans and other phytonutrients that may provide both anti-inflammatory and cardiovascular benefits. Of particular interest to researchers is a class of phytonutrients abundant in these vegetables called cucurbitacins, which may have anti-cancer benefits.
Ingredients
DRESSING
2 tablespoons dried oregano
1/4 cup red wine vinegar
1 cup extra virgin olive oil
2 large garlic cloves, mashed
Salt
Freshly ground black pepper
SALAD
2 teaspoons salt
1 medium red onion, halved and thinly sliced
3 tomatoes, cut into wedges
1 cucumber, peeled and cut into chunks
1 green bell pepper, seeded and sliced
1 red bell pepper, seeded and sliced
1/4 cup chopped fresh basil
1/2 cup pitted and halved Kalamata olives
2 tablespoons fresh Italian parsley
6 ounces feta cheese, sliced
6 lemon wedges
Instructions
For Dressing:
1. Combine all the ingredients in a jar, shake well and let stand for 30 minutes. Leftover dressing can be stored in the refrigerator for up to 5 days.
Makes 1-1/4 cups
For Salad:
2. In a bowl, combine salt with 2 cups water and add the red onion slices. Let the onions soak for 15 minutes then rinse and drain well.
3. In a large bowl toss the tomatoes, cucumbers, and peppers with the basil and enough of the dressing to coat vegetables well. Adjust the seasonings. Plate in a high mound on a large plate and garnish with olives, parsley, feta and lemon wedges and serve.