Roasted Asparagus Salad, Arugula & Hazelnuts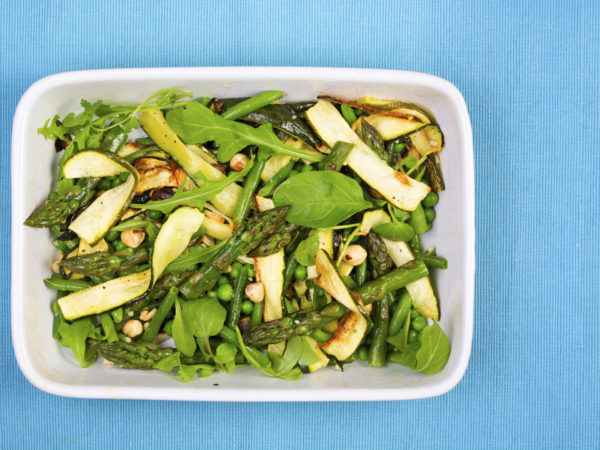 Nutrition
Makes 4 servings
Per Serving:
Calories: 190
Total Fat: 15.5 g (2 g saturated, 12 g mono-unsaturated)
Carbohydrates: 12 g
Protein: 7 g
Fiber: 6 g
Sodium: 210 mg
Recipe courtesy of The Longevity Kitchen, by Rebecca Katz, MS
This is a special, healthful and nutritious recipe with the sunny taste of lemons. Made with savory, roasted asparagus, meaty hazelnuts, and a light dressing it will please your palate and make your guests ask for the recipe.

You can learn a lot sitting on the tailgate of a pickup truck. That's where my buddy Chris, from Zuckerman's Farm, used to sit me down and teach me about all things asparagus. Chris worked hard – awfully hard – as a farmer. He was true salt of the earth, and as generous as they come. Normally, there's an invisible line: farmers behind their wares and buyers on the other side, but Chris always insisted I "step into his parlor." Both of us were always so excited when the first asparagus of the season showed up. He'd put aside a bunch for me, and then we'd both hop up on that tailgate and talk – about recipes, how amazingly nutritious asparagus is, and, a lot of the time, about life and family. Chris passed away not long ago, and I felt the best way I could honor him was to create a recipe featuring his favorite veggie. I think he would have enjoyed this, and I hope you will too.
-Rebecca Katz, author of The Longevity Kitchen cookbook
Ingredients
1/3 cup hazelnuts
2 bunches asparagus (about 2 pounds), tough ends snapped off and discarded, then peeled (see note*)
2 tablespoons plus 2 teaspoons extra-virgin olive oil
Sea salt
2 tablespoons freshly squeezed lemon juice
Freshly ground pepper
4 cups loosely packed arugula
Instructions
Preheat the oven to 400°F.
Put the hazelnuts on a rimmed baking sheet. Put them in the oven for 5 to 7 minutes as it preheats, until aromatic and browned. Transfer to a plate or, if you'd like to remove the skins for a more refined texture and appearance, wrap them in a towel and give them a good rub. The majority of the skins will come right off. Coarsely chop the hazelnuts.
Put the asparagus on the same baking sheet in a single layer. Drizzle with the 2 teaspoons of olive oil and generously sprinkle with salt. Toss gently to evenly coat the asparagus. Bake for 8 minutes, until just barely tender.
Put the lemon juice, the 2 tablespoons of olive oil, 1/4 teaspoon of salt, and a few grinds of pepper in a small bowl and mix well with a small whisk.
Put the arugula in a large bowl. Drizzle with half of the dressing and toss until evenly coated. Mound the arugula on individual plates or a platter and arrange the asparagus on top. Drizzle with the remaining dressing and sprinkle the hazelnuts on top.
Variation: Substitute toasted pistachios or walnuts for the hazelnuts.
*Cook's Note: Peeling the asparagus gets rid of the stringy, sometimes tough outer layer and exposes the sweet flesh underneath. To peel it, use a regular vegetable peeler with a light touch to shave off just the skin. This technique is not necessary with thin asparagus spears.
Prep Time: 15 minutes
Cook Time: 10 minutes
Storage: Store in an airtight container in the refrigerator for up to 5 days.