Fungi: A Dr. Weil Favorite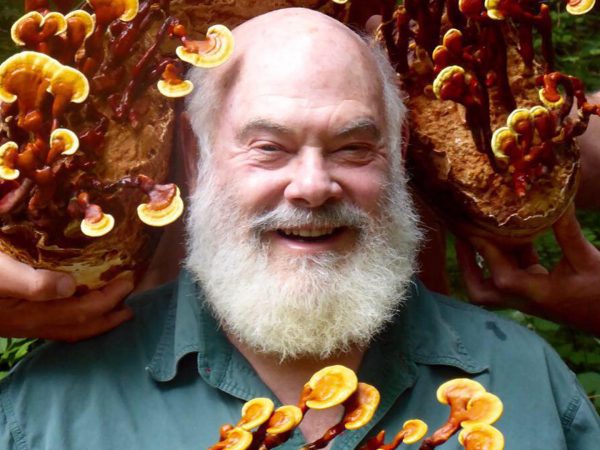 Dr. Weil has a well-known passion for mushrooms. He began to hunt them in the wild years ago and still does. Mushrooms' rich, complex flavors aren't all they have to offer. Many varieties that used to be considered exotic and hard to find have become increasingly available in the United States. Some are delicious as additions to your diet, but some are strictly medicinal mushrooms available in dried, liquid extract or in capsule form. Many have potent medicinal activities. Learn more!
Fungi: A Dr. Weil Favorite
Video Transcript
Here's a sampling of what some of them can do for you.
Shiitake Mushrooms
Staples of Asian cuisines, shiitakes have a rich, savory taste. Dr. Weil likes them so much he's trying to grow them near his summer home in British Columbia. Shiitakes contain substances that may help lower cholesterol, boost immune function, combat viruses and reduce the risk of several kinds of cancer.
Mushrooms Of Immortality: Reishi
Woody reishi mushrooms have impressive health benefits but aren't for eating. You can buy reishi in tea bags, as capsules and as liquid extracts. These medicinal mushrooms can help:
Lower blood pressure
Improve immune function
Protect the liver
Counteract allergy symptoms.
They may even help prevent the spread of cancer cells.
Energy Boosting Mushroom: Cordyceps
Cordyceps are parasitic medicinal mushrooms and grow mainly on insects and even other fungi. Cordyceps can:
Enhance energy
Help increase aerobic capacity
May help athletic performance
Banish fatigue.
They also can help overcome muscle weakness and heighten sexual vigor. You can buy cordyceps in tinctures, liquid extracts, capsules, and powders.
Hen of the Woods: Maitake
These mushrooms resemble the tail feathers of a nesting hen. Maitakes taste great and are widely available fresh or dried. Maitakes have anticancer and antiviral effects. They also can help control high blood pressure, high blood sugar control and enhance immune system power.
Lion's Mane Mushrooms
These culinary mushrooms also have impressive health benefits. They can improve mild cognitive impairment and promote nerve growth. Lion's Mane mushrooms also have been shown to reduce anxiety and enhance sleep.
Enoki Mushrooms
Enoki are mild tasting mushrooms that cook quickly and are perfect in soups and salads. Besides their great taste, enokis have anticancer and immune enhancing effects.
Turkey Tail Mushrooms
Strictly medicinal mushrooms Turkey Tails have anticancer effects and can increase immune function. You can buy Turkey Tail mushrooms in liquid form or in capsules.
Agaricus Blazei
This edible medicinal mushroom is also known as the "almond portobello" for its distinctive flavor. Healthwise, agaricus blazei can enhance immune system effects. It also has anti-tumor and anti-viral activity.
Final Notes On Mushrooms
Dr. Weil always cooks mushrooms and warns against eating them raw because they're tough to digest and some contain toxins that cooking destroys. Before broiling, grilling or sautéing, Dr. Weil flavors mushrooms with a little teriyaki sauce.
Dr. Weil used mushrooms in the line of skin care products he developed for Origins to combat dry, inflamed or sensitive skin.