Cordyceps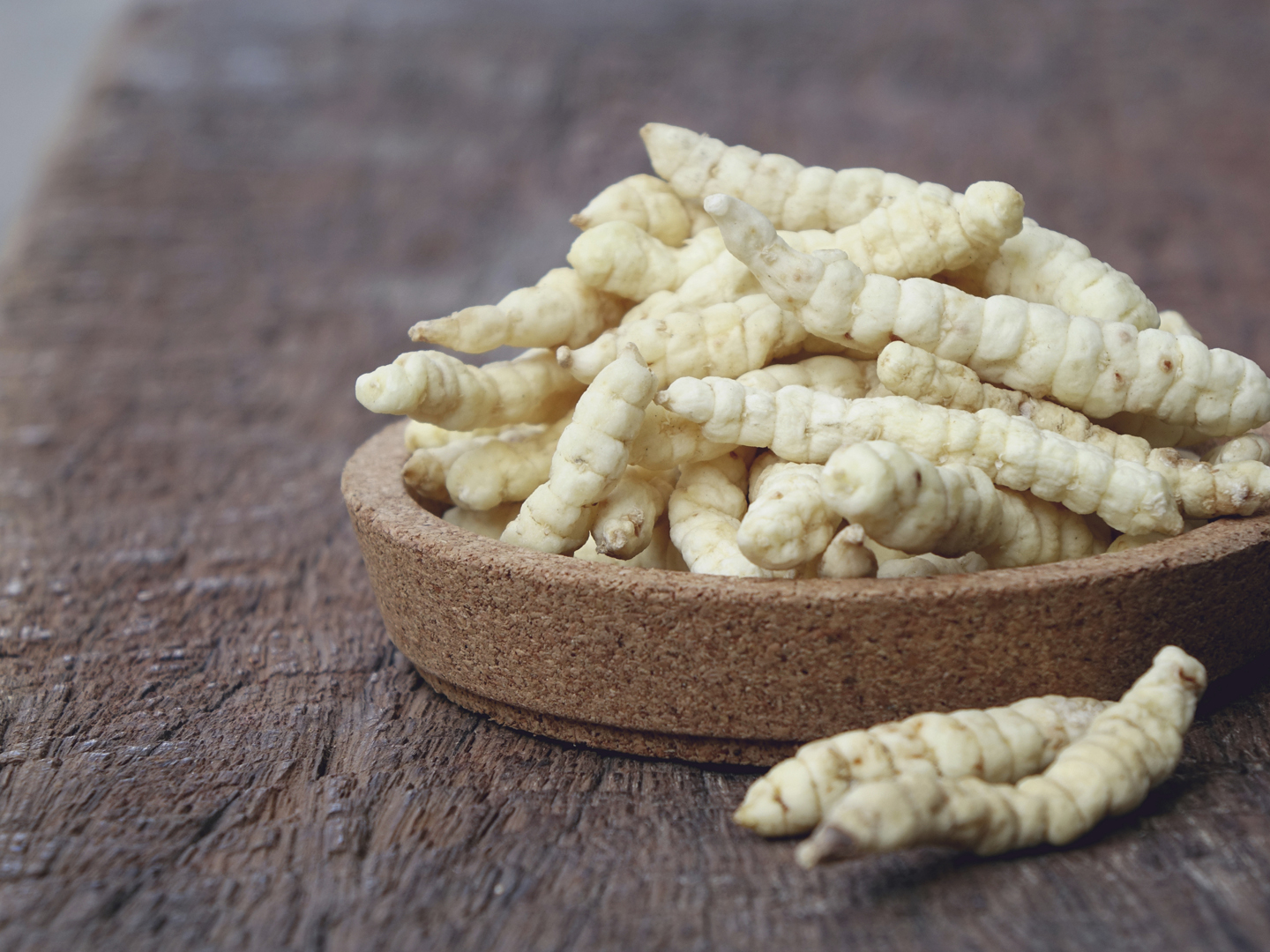 Cordyceps sinensis, Sphaeria sinensis
Cordyceps (Cordyceps sinensis, Sphaeria sinensis) is a fungus traditionally grown in China on the bodies of caterpillars. Considered a mushroom, common names for cordyceps include: vegetable caterpillar, Chinese caterpillar fungus, dong chong xia cao, semitake, hsia ts'ao tung ch'ung, and yarsha gumba.
Used for:
Cordyceps is believed to enhance athletic performance and improve aerobic capacity. Some researchers believe that it has anti-cancer benefits by inducing cancer cell death, a process called apoptosis. Though the process of apoptosis and its effects on cancer progression were not known thousands of years ago, practitioners of Chinese medicine have long used cordyceps medicinally to treat cancerous tumors.
A study published in the journal Radiation Research showed that in mice, cordyceps offered some protection against the effects of whole body radiation therapy on the bone marrow and intestinal tract. Additional studies in mice reported anti-hyperglycemic effects, perhaps paving the way for development of natural agents for treating diabetes.
In addition to enhancing athletic performance and improving aerobic (lung) capacity, cordyceps is used to combat fatigue and muscle weakness, improve mental energy, increase sexual vigor, and for optimal aging. While a 2004 study published in the International Journal of Sport Nutrition and Exercise Metabolism found that it didn't improve performance in endurance-trained athletes, there are no known studies on the effects of cordyceps on the general population, particularly the "weekend warriors" who may be more prone to injury.
Available in:
Tinctures, liquid extracts, capsules, and powders.
Herb / drug interactions:
Since it can lower blood sugar levels, diabetics should check with their doctors to determine whether they can safely take cordyceps. People with blood cancers or bleeding disorders should not take cordyceps as it increases the production of progenitor red blood cells and has blood-thinning effects. It may also increase testosterone production. The safety of cordyceps has not been established in young children, pregnant and nursing women.
Other safety concerns:
None known.
When buying:
You can buy whole, dried cordyceps in health food stores and add them to soups and stews – which is how it is prepared in China – or drink tea made from powdered cordyceps. You can also get cordyceps in liquid or capsule form. Purchase versions that are not grown on caterpillars.
Dosage:
To treat general weakness, take cordyceps once or twice per day following the dosage advice on the product. Generally the dose is five to ten grams per day. For health maintenance, take it once or twice a week. Use a lower dose with concentrated extracts.
Child dosage:
None known.
Dr Weil says:
Cordyceps is one of my favorite treatments for a natural energy boost and I highly recommend it to my patients who struggle with low mood and compromised overall vitality. I recommend that you experiment with cordyceps for a couple of months.
Reviewed by Russell Greenfield M.D., June 2014.
SOURCES:
American Journal of Chinese Medicine 2006;34(5): 819-32.
Anti-hyperglycemic activity of natural and fermented Cordyceps sinensis in rats with diabetes induced by nicotinamide and streptozotocin.
Beth Israel Deaconess Medicla Center -bidmc.org/YourHealth/HolisticHealth/HerbsandSupplements.aspx?ChunkID=104680
Healthy Aging by Andrew Weil.
International Journal of Sport Nutrition and Exercise Metabolism2004 Apr;14(2):236-42.
U.S. National Library of Medicine/NIH Pubmed ncbi.nlm.nih.gov/pubmed/15118196
Memorial Sloan-Kettering Cancer Center -mskcc.org/mskcc/html/69193.cfm
Radiation Research 2006 Dec. 166(6): 900-7
Protection against radiation-induced bone marrow and intestinal injuries by Cordyceps sinensis, a Chinese herbal medicine. bioone.org/doi/abs/10.1667/RR0670.1