My Life With Mushrooms, Part One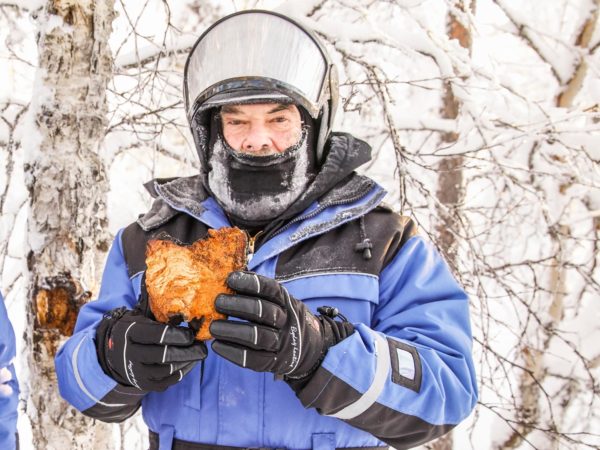 I love everything about mushrooms — foraging for them in beautiful settings, identifying them to make sure that a species is edible (never guess about this!), learning the best ways to cook them, savoring their rich flavors and textures, discovering their medicinal properties and health benefits.
My enduring fascination with mushrooms was inspired by my mother's fear of them. She worried that fresh button mushrooms — the only ones widely available when I was growing up — might be poisonous and even warned me not to touch the "toadstools" that occasionally popped up on our small front lawn. Neither she nor I knew at the time that very few mushrooms are deadly and those that are can't harm you if all you do is handle them. I've since realized that my mother's attitude was typical of the fear of mushrooms prevalent in the English-speaking world. Much later when she found out that I was collecting and eating wild mushrooms, she told me I was a reckless fool.
Medicinal Mushrooms
I first learned about the medicinal benefits of mushrooms in the 1970s when I began reading about Chinese medicine and about research in China and Japan where traditional doctors esteem fungi as both food and medicine. I became a great believer in the immune-enhancing and cancer-protective properties of shiitake, oyster mushrooms, maitake, enoki, and other Asian species. Some of the most prized remedies in the Chinese herbal repertory are mushrooms that act as tonics — that is, they are believed to increase resistance to all kinds of stress as well as to extend longevity. Some tonic mushrooms, such as shiitake and maitake, are good to eat, while others like reishi are too woody or too bitter to be edible but can be made into medicinal teas or extracts. I take a dose of a liquid extract of seven different species every day.
I also learned that our most widely available mushrooms (white and brown buttons, cremini and portobello) are all the same species (Agaricus bisporus) and contain natural carcinogens. They do not offer the health benefits of species popular in east Asia.
I thought it odd that there was no interest in the West in the medicinal properties of mushrooms. In the late 1970s, I began giving talks on the subject at mushroom conferences and called for scientific studies. (It has taken a long time for researchers in North America and Europe to look into the health benefits of mushrooms, but I'm happy to say it's finally happening.)
Magic Mushrooms
During this period, I also was exploring and writing about magic mushrooms, those with psychoactive properties. I first experienced their effects in Mexico in 1972. (See my story about this in my book, The Marriage of the Sun and Moon.) Soon after, I got to know the Liberty Cap mushroom (Psilocybe semilanceata) and related psychoactive species in Oregon. All of them owe their magic to the psychedelic compound, psilocybin. After I wrote a scientific article on the subject, "The Use of Psychoactive Mushrooms in the Pacific Northwest: An Ethnopharmacologic Report," I began to receive even more invitations to speak at mushroom conferences.
In my travels throughout the world, I've come to know many mushrooms. That's not something you can learn from books. Your best bet is to spend time with people who know mushrooms and can teach you how to recognize and find them. I first learned to collect edible wild mushrooms from experienced hunters in Oregon in the 1970s. I came to know and love chanterelles, hedgehogs, blewits, shaggy manes, and woodland russulas. The Arizona desert, where I live most of the year, is too dry a habitat for mushrooms (except in the forests on mountain tops after summer rains), but I try to collect in British Columbia and other good areas whenever I can.
Attitudes toward mushrooms in the U.S. appear to have changed in recent years. Fear of them has lessened somewhat, and formerly exotic species are now widely available. Still, nutritionists often say that mushrooms have little food value, despite the fact that they are respectable sources of good quality protein and micronutrients.
Culinary Mushrooms
I strongly advise against eating any mushrooms raw, whether they're wild or cultivated. Cooking breaks down their cell walls, which are tough and resistant to digestion, and many species contain toxins that cooking destroys. Always cook mushrooms well by sautéing, broiling, or grilling.
When trying a mushroom I've never eaten before, I usually sauté it in a little olive or avocado oil with a sprinkle of salt to sample its flavor and texture. If I like it, I look for ways to prepare it that will enhance its qualities without violating principles of healthy eating. In general, Asian cooking methods work well, such as grilling whole or sliced mushrooms after brushing them with teriyaki sauce or adding them to soups or stir-fries. These preparations use little or no fat, in contrast to the cream- and butter-rich mushroom dishes often served in restaurants.
Andrew Weil, M.D.
(I'll discuss the use of mushrooms for skincare as well as what we've learned about their power to enhance soil and forest health in "My Life With Mushrooms, Part Two.")
More information:
Originally Posted March 2018. Updated July 2022.