Arizona County Approves Integrative Care Plan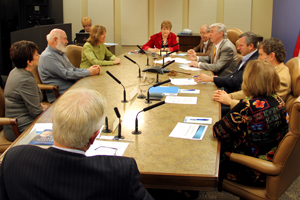 In a vote that may ultimately boost acceptance of integrative medicine (IM) throughout the U.S., the Maricopa County Board of Supervisors unanimously agreed on Nov. 28, 2011, to allow the county's employees and their dependents to receive primary care at an IM clinic scheduled to open in Phoenix, Ariz., in July of 2012. The Arizona Center for Integrative Medicine (AzCIM) will study patient outcomes to determine the effectiveness and costs of integrative versus conventional primary care within the county's 13,000 employee system.
Integrative medicine is a blend of conventional Western medicine and complementary therapies for which there is good scientific evidence of effectiveness. At a press conference after the vote, Dr. Weil predicted the study will find that the IM clinic provides both better health outcomes and "significantly" lower costs. "One reason for the high cost of health care is the tremendous overuse of medications. I think just in that alone, we will be able to show great cost reductions because we simply don't prescribe medications frequently. We have many nondrug options to manage common conditions.
"In the 1950s," he added, "Americans took prescribed medications at about 10 percent of the rate that they do now," yet health outcomes have not significantly improved, and by some measures, they have gotten worse. "Our hope is that the information that we generate from the study will inform the whole discussion of health care in the United States, which is in desperate need of transformation. I see this as a way to change the health care debate, and get us out of the deepening crisis that we're in."
Victoria Maizes, M.D., AzCIM's executive director, was also optimistic about what the study would find, pointing out that early type 2 diabetes and hypertension are primarily "lifestyle diseases, and if you have a clinic that focuses well enough, and supports people well enough in their lifestyle changes, you are going to be able to reverse these conditions."
The Adolph Coors Foundation will fund the three-year study, which will look at anonymous data regarding outcomes and treatment costs for patients with chronic diseases such as type 2 diabetes, high blood pressure and low back pain. The 12-physician clinic will be able to treat approximately 1,800 patients, but if more county employees than that should choose the option, another facility could be opened, Dr. Weil said.
The experiment is well worth pursuing, said Administrator David R. Smith, who pointed out that Maricopa's current health care costs are significant. "We spend upwards of $100 million for our 13,000 employees – we have 25,000 covered lives when you include dependents – so if there is an opportunity for 1,800 of our adult employees and their dependents to get even better outcomes, possibly, at lower cost, then as an employer, we are very interested in those kinds of results."
The agreement extends until June of 2015, but can be renewed. During the study, clinic leadership will work closely with Maricopa County and with CIGNA, the county's claims administrator and network provider.
More images from the meeting: AzCIM and Maricopa County Board of Supervisors