Reheating Mushrooms?
I recently read that reheating mushrooms in a microwave is not a good idea. If this is true, is it a problem specific to the microwave or does reheating mushrooms make them toxic?
Andrew Weil, M.D. | April 18, 2019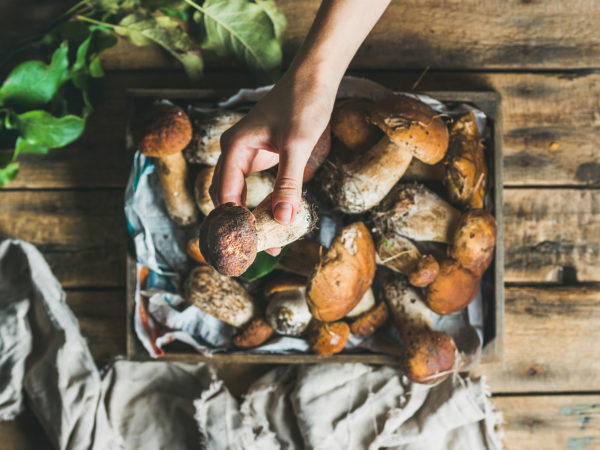 I don't know where the notion came from that reheating mushrooms in a microwave creates toxins, but I can assure you that it is nonsense (along with many other exaggerated fears of mushroom poisoning).
It is safe to reheat mushrooms in a microwave or by other means. More pertinent is the question of storing them correctly: you can keep them in the refrigerator in their original packaging or in a porous paper bag (such as a brown bag from the supermarket) for up to a week before using them. (never put them in plastic, which will hasten spoilage.)  You can freeze sautéed mushrooms for up to a month, but never freeze fresh mushrooms; it won't make them toxic, but they will turn to mush on thawing.
Here are some tips for the purchase, cleaning and preparation of mushrooms from the Mushroom Council.
When shopping for mushrooms, look for ones that are firm with a fresh, smooth appearance. The surfaces should be dry but not dried out. They should look plump. A closed veil under the cap indicates a young mushroom with delicate flavor, while an open veil and exposed gills mean a mature one with richer flavor.
When you bring mushrooms home, brush off any debris with your fingers or a damp paper towel. Try to avoid rinsing them, as they already have a high water content. Trim the bottom of the stems. (Remove shiitakes stems before cooking; they are too tough to eat.)
I strongly advise against eating any mushrooms raw. Cooking breaks down their cell walls, which are tough and resistant to digestion, and while many species do contain toxins, cooking renders these compounds harmless. Always cook mushrooms well by sautéing, broiling, or grilling.
When trying a mushroom I've never eaten before, I usually sauté it in a little olive or avocado oil with a sprinkle of salt to sample the flavor and texture. If I like it, I look for ways to prepare it that will enhance its qualities without violating principles of healthy eating. In general, Asian cooking methods work well, such as grilling whole or sliced mushrooms after brushing them with teriyaki sauce or adding them to soups or stir-fries. These preparations use little or no fat, in contrast to the cream- and butter-rich mushroom dishes often served in American restaurants.
Andrew Weil, M.D.