Alaskan Salmon From China?
I just learned that the wild caught Alaskan salmon I've been buying is caught in Alaska and then sent to China for processing. Is this the normal practice for wild caught fish?
Andrew Weil, M.D. | May 4, 2017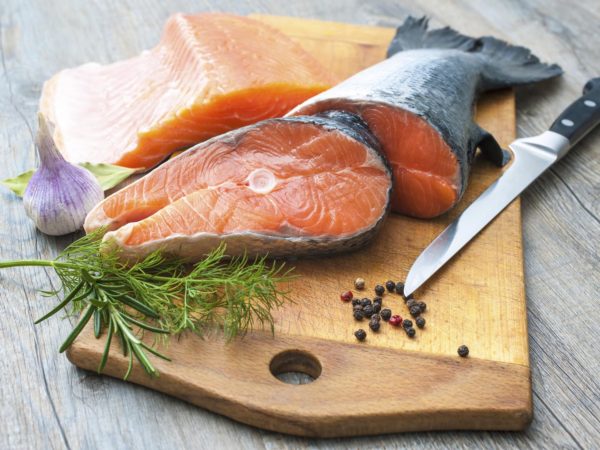 It is true that some Alaskan seafood companies send their wild caught salmon to China, Vietnam, Thailand or elsewhere in Asia for processing. Beyond that, in 2014 the Los Angeles Times reported that in addition to wild Alaska salmon, some of the exports, including California squid and Bering Sea pollock, make the round trip to Asia and back to the U.S. twice frozen.
The main reason is financial. In another news article on the subject, a seafood company executive explained that that there are 36 pin bones in a salmon that are best removed by hand. The labor cost in the U.S. would be $1 per pound compared to 20 cents in China.
However, the LA Times article pointed out another reason for the shift toward processing fish in Asia. It noted, "Seafood processing plants are typically located close to the shore, which is exactly where well-heeled people like to build homes."  For that reason, "across the country, processing plants, oyster farms and canneries have been pushed out of their valuable shorefront locations by residents who didn't want them next door."
I asked Randy Hartnell, president of Vital Choice Wild Seafood & Organics, about the practice of sending wild Alaskan salmon to China for deboning. He told me that it is common and that the significantly lower labor costs in China and elsewhere in Asia warrant the round-trip transportation costs of shipping it overseas and back again. He says also that doing so requires the Country of Origin (COO) designation on these fish to state "Wild Alaska Salmon, Product of China." This also explains why California sardines, mackerel, calamari and other products may be labeled "Product of China" or Vietnam, Thailand or other Asian countries.
Mr. Hartnell told me that he doesn't believe there is much, if any, negative impact on the safety or nutrient value of salmon processed in China, although he adds that because these fish are typically destined for more price-sensitive markets such as Costco, Sam's Club, Kroger, they are unlikely to start out as a premium product in the first place. He notes that A-Grade fish usually go to more upscale markets in the U.S., Japan, and Europe. (U.S. A-grade fish is defined as fillets that "possess good flavor and odor characteristic of the species." Grade-B fish are defined as those that possess "reasonably good" flavor and odor.)   Mr. Hartnell also points out that fish processed overseas have significantly more "food miles" so would be considered somewhat less sustainable than domestically processed alternatives. They would also lack the economic benefit of a "Made in the USA" product that supports American jobs.
By the way, Mr. Hartnell assures me that all Vital Choice salmon, which I have long recommended, is processed in Alaska, Washington, Oregon, and, in the case of some of smoked salmon products, British Columbia.
Andrew Weil, M.D.
Sources:
www.seattletimes.com/business/nw-salmon-sent-to-china-before-reaching-us-tables/ www.seafood.nmfs.noaa.gov/pdfs/generalfillets.pdf