Maitake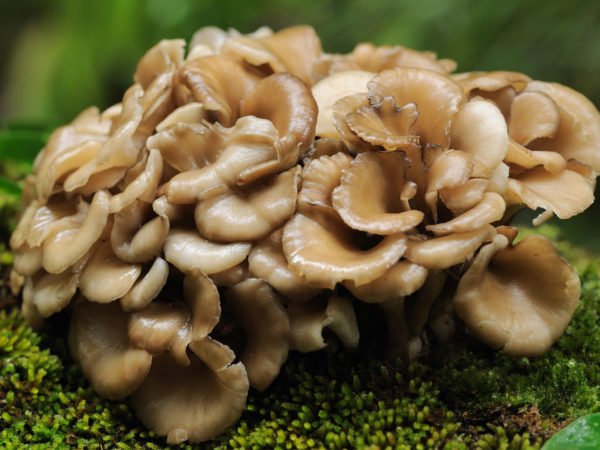 Maitake (Grifola frondosa)
Maitake: an edible and medicinal mushroom is a perennial fungus that grows in clusters at the base of trees. It is native to the northeastern part of Japan and North America, where it grows from an underground tuber-like structure. In Japan, it can grow to more than 50 pounds in size. Maitake means "dancing mushroom," and it is also commonly referred to as "hen of the woods" due to its resemblance of the fluffy tail feathers of a nesting hen. It is used for its delicious taste (it is one of the major culinary mushrooms in Japan), as well as its anti-cancer, anti-viral and immune-enhancing properties in traditional Chinese and Japanese medicine.
Uses For Maitake:
Maitake mushrooms contain chemicals that may enhance the immune system and provide anti-cancer properties. A 2009 human trial at Memorial Sloan–Kettering Cancer Center found that Maitake appeared to stimulate the immune systems of breast cancer patients. Other studies have also shown that Maitake can stimulate immune system cells in cancer patients. Maitake has also proved to have hypoglycemic effects and may be helpful in managing diabetes.
Maitake may also relieve side effects of chemotherapy. It may be used to treat HIV/AIDS, high blood pressure and blood sugar, hepatitis, chronic fatigue syndrome (CFS), viral meningitis, thyroid cancer, and infertility caused by polycystic ovary syndrome.
Maitake Is Available In:
Powders, capsules, and extracts.
Maitake Interactions & Warnings:
Because it may lower blood sugar levels, do not take maitake with other herbs or supplements that may also lower blood sugar, including diabetes medications. Maitake may increase the blood-thinning effects of warfarin (Coumadin); only take under physician supervision if you are on blood-thinning medication.
People preparing for surgery should not take maitake for at least two weeks prior to avoid issues with blood sugar or blood clotting. 
When Buying Maitake:
Look for extracts standardized to the D-fraction of maitake (derived from a polysaccharide called beta glucan). Commercial preparations commonly provide 3 to 25 mg of standardized D – or MD-fraction plus 75 to 250 mg whole powder per capsule.
Maitake Dosage:
Disease-prevention doses of commercial preparations range from 12 to 25 mg of the extract and 200 to 250 mg or 500 to 2,500 mg of whole powder daily.
Children's Dosage:
None specified. May consider half the adult dose in children aged 6-12 years.
Dr. Weil Says:
I'm a great believer in the immune-enhancing and cancer-protective properties of Asian mushrooms, including maitake. It is edible and delicious, and part of the recommendations in my Anti-Inflammatory Food Pyramid. You should be able to find it dried or fresh in Japanese markets, gourmet stores, or upscale supermarkets or as extracts.
Learn more: All About Mushrooms
SOURCES:

Maitake. Natural Medicines Comprehensive Database Consumer version. Stockton, CA: Therapeutic Research Faculty, Updated January 6, 2012, and accessed February 14, 2014, at

http://naturaldatabaseconsumer.therapeuticresearch.com/nd/Search.aspx?cs=NONMP&s=NDC&pt=100&id=560&fs=NDC&searchid=45151802

Maitake, Health Canada. Updated November 25, 2013, accessed February 14, 2014, at

http://webprod.hc-sc.gc.ca/nhpid-bdipsn/atReq.do?atid=maitake&lang=eng

Deng G, Lin H, Seidman A, et al. (September 2009). "A phase I/II trial of a polysaccharide extract from Grifola frondosa (Maitake mushroom) in breast cancer patients: immunological effects". Journal of Cancer Research and Clinical Oncology 135 (9): 1215–21. doi:10.1007/s00432-009-0562-z. PMID 19253021.
Reviewed by Russell Greenfield, M.D., September, 2016.