Cordyceps For Better Exercise?
Can the cordyceps mushroom really boost athletic and exercise performance? Do you recommend it for this purpose?
Andrew Weil, M.D. | March 14, 2018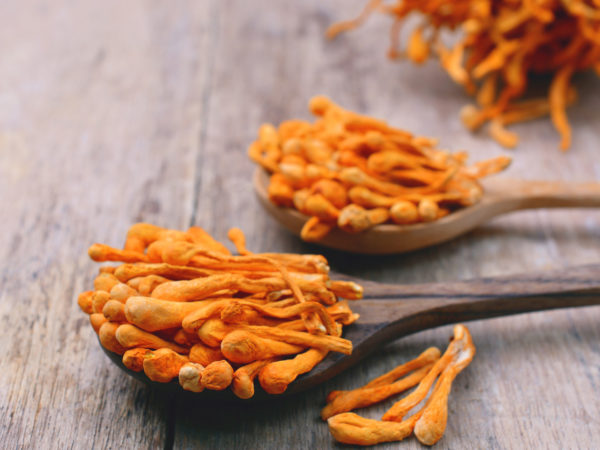 Cordyceps (Cordyceps sinensis, Sphaeria sinensis) is one of my preferred dietary supplements for a natural energy boost. A fungus that kills and then grows on the bodies of caterpillars in mountainous regions of China, cordyceps is also known as vegetable caterpillar and Chinese caterpillar fungus. It is traditionally used to combat fatigue and muscle weakness, improve mental energy, increase sexual vigor, and promote optimal aging. The effects on fatigue may be due to effects on the cellular production of adenosine triphosphate (ATP), the compound that stores and transfers metabolic energy.
While cordyceps is believed to enhance athletic performance and improve aerobic capacity, these effects weren't apparent in a 2004 study of endurance-trained cyclists at Brigham Young University. Later, however, a study from UCLA that tested the effect of cordyceps on exercise performance in 20 adults age 50 to 75 suggested that it did lead to improvements and might contribute to wellness among people in this age range. Even more recently, a study from the University of North Carolina, Chapel Hill found that supplementation with a cordyceps mushroom blend improved tolerance to high-intensity exercise among participants whose average age was 23.
Many other health benefits have been attributed to cordyceps, including some protection against the effects of whole-body radiation therapy on bone marrow and the intestinal tract. Research in the laboratory has also shown that cordyceps stimulates many different immune cells, but it isn't known whether the same effect occurs in the human immune system. And evidence from studies in kidney transplant patients suggests that cordyceps can help improve their kidney function. Studies in mice and rats have found that cordyceps can lower blood sugar, but this has not been confirmed in humans. Still, if you're diabetic, you might consider trying it. (Check with your doctor first.)
People with blood cancers or bleeding disorders should not take cordyceps as it may have blood-thinning effects. It may also increase testosterone production. The safety of cordyceps has not been established in young children or women who are pregnant or nursing.
You can get cordyceps in tinctures, liquid extracts, capsules, and powders. Whole dried cordyceps is available in Chinese herb stores and some health food stores. In China, it is added to soups and stews.
To treat general weakness, low mood or compromised overall vitality, I recommend taking cordyceps once or twice a day following the dosage advice on the product (generally 5 to 10 grams daily). For health maintenance, take it once or twice a week. Use a lower dose with concentrated extracts.
Cordyceps is one of several species in the mega-mushroom line of skin-care products I helped develop for Origins. It benefits skin health and can help address such problems as dryness, redness, and sensitivity.
Andrew Weil, M.D.
Source:
S. Chen et al, "Effect of Cs-4 (Cordyceps sinensis) on exercise performance in healthy older subjects: a double-blind, placebo-controlled trial." Journal of Alternative and Complementary Medicine, May 2010, doi: 10.1089/acm.2009.0226
More information: