Dr. Weil's Guide To Essential Oils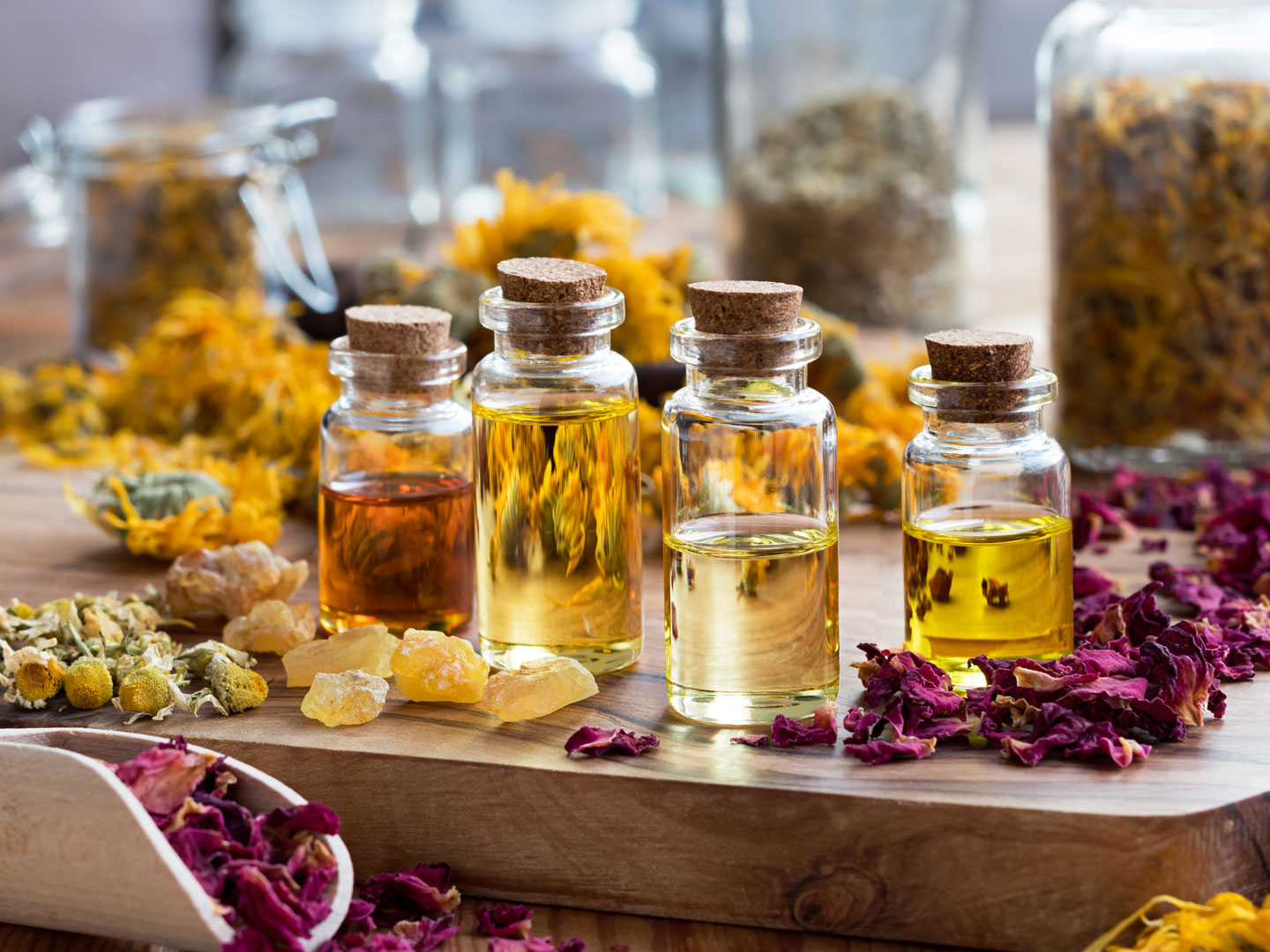 Essential oils are extracted from flowers, leaves, fruits, barks or roots of plants, and are widely used in lotions and perfumes as well as in aromatherapy. The chemical composition of each essential oil determines its aroma, how well it can be absorbed on, or in the body, and how it affects physiology. Many concentrated extracts can influence mood and have been used over the years to address a number of health problems, including
Some essential oils have antimicrobial, antibacterial and antifungal properties and documented health benefits. Research on tea tree oil, for example, shows it to be as effective as an antibiotic-based topical treatment for clearing MRSA (methicillin-resistant staphylococcus aureus) bacteria from the skin. According to the National Cancer Institute, human clinical trials have investigated the use of essential oil aromatherapy to relieve stress and anxiety in critically ill patients.
Using Essential Oils
The quality of essential oils varies tremendously; the best and purest are very expensive. Be aware that undiluted essential oils should never be applied to the skin because they can irritate and burn. Be sure to dilute them first in a carrier oil, such as avocado or fractionated coconut oil. When buying an essential oil, be sure to ask specifically about dilution. In general, for use by an adult, you should use only two drops of essential oil per teaspoon of carrier oil, less for children, based on age, and for individuals with serious health issues.
Safety testing has revealed few other negative effects when essential oils are used as directed. Use of citrus or other oils prior to sun exposure can lead to sun sensitivity. Lavender and tea tree oils have estrogenic properties and can also block or decrease the effect of androgens (male sex hormones). They should be avoided by individuals with estrogen-dependent tumors. One study found that long-term topical application of lavender and tea tree oils led to breast enlargement in boys who had not yet reached puberty.
List Of Essential Oils
Buying Essential Oils
Because the U.S. Food and Drug Administration (FDA) doesn't regulate essential oils, do some research before you buy. Learn the botanical name of the oil you want. For example, not all lavender promotes relaxation: you want Lavandula angustifolia, not Lavandula latifolia, which is an expectorant, not a sedative. In addition, make an effort to learn the country of origin. Products imported from Europe are often of high quality. It's also important to learn whether or not the manufacturer regularly tests oils for purity and protects them from oxidation, which can change their composition and make them irritating to the skin.
To find high-quality oils, shop at natural food stores or buy from suppliers to professional aromatherapists. Be sure to ask how long the oil will last before it spoils (usually about three years with proper storage).
Be sure to store essential oils (and carrier oils) in a cool, dark place. (You can keep carrier oils in the refrigerator but remove them 12 hours prior to use.)
The longer you keep an essential oil, the less effective it may become. Worse, spoilage as a result of exposure to oxygen can make a product irritating or allergenic.
Additional Resources For Essential Oils
Infographic:
Videos:
Other Articles: