Essential Oils: Eucalyptus Oil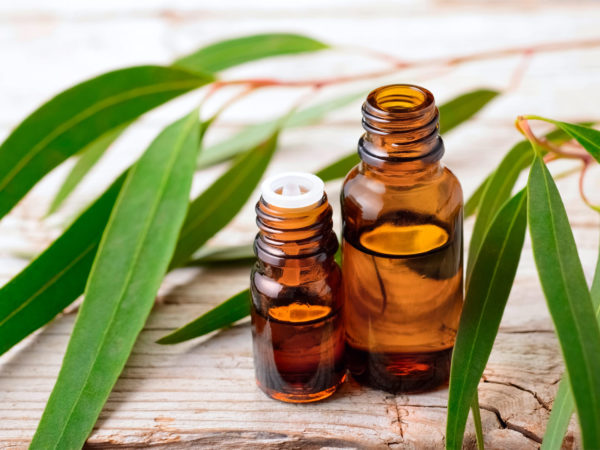 Eucalyptus oil (Eucalyptus spp.) is extracted from the dried leaves of eucalyptus trees, native to Australia but now growing in many tropical and subtropical areas of the world as well as in temperate zones. The oil has antifungal, antibacterial, and antioxidant properties and also can be useful as a mosquito repellent and as an insecticide capable of repelling or killing lice, mites and ticks.
Eucalyptus Oil Uses:
Respiratory problems including chest congestion, bronchitis, bronchial cough and sinusitis, sore throat and laryngitis. Add a teaspoon of eucalyptus oil to simmering water for twice-daily steam inhalations. Apply rubs as needed to your chest and throat or cautiously around nostrils to ease congestion. Before using eucalyptus oil on your skin be sure to dilute it with a carrier oil one to five drops of eucalyptus to 1 ounce of carrier oil and be careful not to get it in the eyes or nasal passages.
Asthma: Some studies suggest that eucalyptol, a chemical in eucalyptus oil, can help treat asthma. Reportedly some asthma patients have been able to lower the dosages of other drugs by taking capsules of eucalyptol or inhaling it. Don't try this on your own. More research is needed to confirm earlier findings.
Dental Problems: Eucalyptus oil and its most important constituent, eucalyptol, can help kill the bacteria that cause plaque, gingivitis and bad breath. Both are often used in mouthwashes and toothpaste.
Cautions:
Undiluted eucalyptus can be toxic if swallowed. Taking 3.5 milliliters of the undiluted oil by mouth can be fatal. Symptoms of eucalyptus poisoning include stomach pain, dizziness, muscle weakness, feelings of suffocation, nausea, vomiting, and diarrhea. Do not use undiluted eucalyptus oil on your skin. Not much is known about the safety of eucalyptus oil for children and not enough is known about the safety of its use during pregnancy and breast-feeding.
Dr. Weil's View On Eucalyptus Oil:
Eucalyptus either alone or in combination with sage is a good way to increase the effectiveness of steam inhalation for the respiratory problems mentioned above. Add a teaspoon of the essential oil to simmering water or a steam vaporizer. This treatment may help reduce the chance of secondary infections in cases of respiratory diseases caused by viruses.
Source:
Annalucia Serrafino et al, "Stimulatory effect of Eucalyptus essential oil on innate cell-mediated immune response." BMC Immunology, April 18, 2008, doi: 10.1186/1471-2172-9-17