Essential Oils: Lemon Balm Oil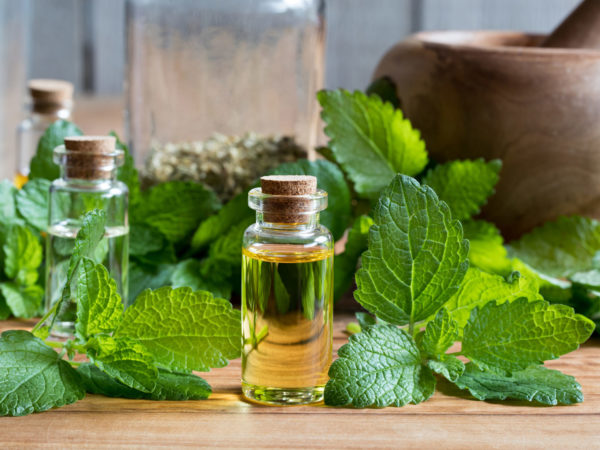 Lemon balm oil comes from lemon balm (Melissa officinalis) which is a perennial herb in the mint family that is native to southern Europe and the Mediterranean region and that can now be found throughout the world. Its leaves, which have a mild aroma similar to that of lemons, contain compounds that have a soothing effect.
Lemon Balm Oil Uses:
Sleep and relaxation: Lemon balm has been used for centuries to address sleep disturbances, including restlessness and insomnia, to reduce anxiety and to promote a sense of calm. Lemon balm oil extract, especially when combined and taken with valerian root extract, can improve the quality of sleep in adults and children.
Anxiety: One study showed an oral dose taken daily for four months appeared to help reduce agitation and decrease symptoms of agitation in those with mild to moderate Alzheimer's disease. Lemon balm may also help address other mental health concerns as well, including attention deficit-hyperactivity disorder (ADHD), although more research is needed.
Digestive problems: Lemon balm is useful in the treatment of digestive problems, including upset stomach, bloating, intestinal gas, vomiting and colic.
Cold sores: Extract of lemon balm may help reduce the symptoms of cold sores, shorten their healing time and prevent the spread of the infection. However, in some cases, lemon balm may worsen cold sores.
Pain relief: Lemon balm may help ease the pain of headache, menstrual cramps and toothache. It also can be used as an insect repellant and a treatment for insect bites.
Cautions:
To avoid excessive sedation, use lemon balm cautiously in combination with sedative drugs; avoid taking alcohol and lemon balm at the same time to minimize sleepiness. Exercise caution when operating heavy machinery or driving a motor vehicle while taking lemon balm. When ingested, lemon balm can lead to increased appetite but may also cause nausea, vomiting, abdominal pain, dizziness and wheezing. Lemon balm may affect thyroid function and interfere with thyroid hormone-replacement therapy; it probably should be avoided if you have thyroid problems. Animal studies suggest that lemon balm can raise pressure in the eye. If so, in humans who have glaucoma it could interfere with treatment. Because the safety of using lemon balm during pregnancy and breast-feeding has not been established, women probably should avoid using it at these times.
Dr. Weil's View On Lemon Balm Oil:
The odor of lemon balm oil is both uplifting and soothing; some describe it as the "essence of spring." It is not surprising that lemon balm essential oil has been shown to have beneficial effects on mental states. In one study in England, researchers found that applying lemon balm oil to the face and arms of patients with severe dementia reduced their agitation by 35 percent.
Source:
"Lemon balm (Melissa officinalis L.): an evidence-based systematic review by the Natural Standard Research Collaboration." Journal of Herbal Pharmacotherapy, February 2005. researchgate.net/publication/7144806_Lemon_balm_Melissa_officinalis_L_an_evidence-based_systematic_review_by_the_Natural_Standard_Research_Collaboration