Essential Oils: Peppermint Oil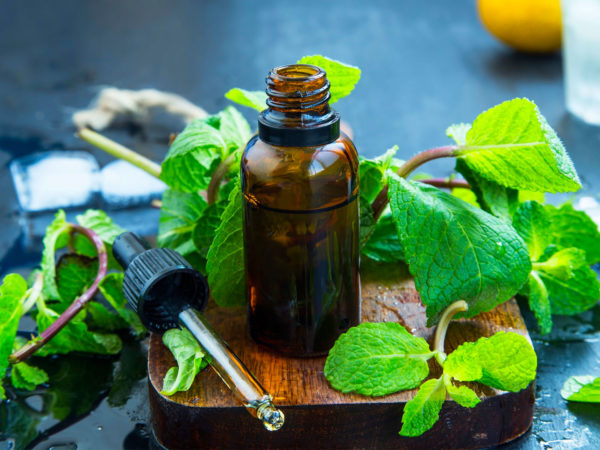 Peppermint oil is dervived from peppermint (Mentha piperita) which grows throughout Europe and North America. Its leaves and essential peppermint oil have been used for health purposes for thousands of years; they are mentioned in records from ancient Egypt, Greece, and Rome. Peppermint's primary active compound is menthol, which reduces smooth muscle contractions by blocking calcium channels. Menthol has a particular antispasmodic effect in the digestive tract.
The Food and Drug Administration (FDA) permits the use of mentholated ointments, lozenges and steam inhalants for relieving cough, as well as the use of mentholated ointments for temporarily easing aching muscles and joints.
Peppermint Oil Uses:
Irritable Bowel Syndrome (IBS): Several studies have shown that peppermint oil in enteric-coated capsules may help alleviate IBS symptoms, including abdominal pain, bloating and gas. A study performed in Taiwan found that taking the capsules 15 to 30 minutes before meals significantly mitigated IBS symptoms. Peppermint oil can reduce muscle spasms or cramping and relieve abdominal pain and discomfort. Take one or two capsules three times a day. Peppermint oil is also used to treat intestinal bacterial overgrowth.
Tension headaches: Used on the skin of the head and neck is regarded as a standard treatment for tension headache. It can be as effective as aspirin or acetaminophen (Tylenol).
Muscle aches: The menthol in peppermint oil can help ease muscle aches by activating cold-sensitive receptors in the skin, causing a cooling sensation after the oil is applied.
Itching: By the same mechanism, this essential oil can help relieve itching.
Coughs and colds: Although many people experience relief from cough and cold symptoms by inhaling peppermint, no such physiologic effect was seen in a 2008 study when researchers measured inhalation and exhalation via a spirometer. Even so, the children involved claimed their nasal stuffiness disappeared after they inhaled the mentholated vapor.
Rheumatoid arthritis: The natural pain relieving, anesthetic and anti-inflammatory properties of peppermint can help relieve joint pain and stiffness.
Cautions:
Taken internally, peppermint oil can cause heartburn, nausea, and vomiting, and using peppermint oil on the skin can cause skin rashes and irritation. Don't apply it to the face or chest of infants or young children. Serious side effects may occur if children inhale it. Because peppermint oil is highly concentrated, only a few drops of undiluted essential oil should be used for health purposes. It's unclear whether ingesting peppermint oil during pregnancy and nursing is advisable; restricting usage to topical application may be the best option for nursing mothers and mothers to be.
Dr. Weil's View On Peppermint Oil
Because peppermint is so ingrained in our minds as an ingredient in candy or gum, we tend not to think of it as a powerful remedy. In fact, it is an effective and first-line treatment for stomach upset, ideal for treating indigestion and discomfort following a heavy meal. Before you reach for the antacids in this situation try peppermint tea.
Source:
National Center for Complementary and Integrative Health, "Peppermint Oil," nccih.nih.gov/health/peppermintoil#refs, December 1, 2016