Essential Oils: Frankincense (Boswellia)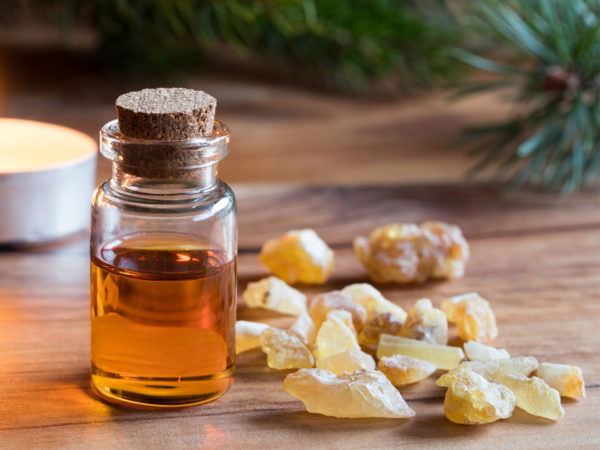 Frankincense (Boswellia) is a resin obtained from the Boswellia, a large branching tree native to India, the Middle East and North Africa. It has been used as incense in religious and cultural ceremonies since antiquity. Clinical trials have shown that boswellic acid, the principal active component, has anti-inflammatory action comparable to that of nonsteroidal anti-inflammatory drugs (NSAIDS). Frankincense has been used to treat osteoarthritis, ulcerative colitis and bronchial asthma as well as colic and intestinal gas. It has also been studied for possible anti-cancer effects.
Frankincense Uses:
Arthritis: Applying frankincense essential oil topically may reduce the inflammation, pain and stiffness of rheumatoid arthritis. One randomized controlled trial found that Boswellia extract provided better pain control than a placebo for osteoarthritis, and other research showed that it might decrease joint pain by 32 to 65 percent.
Asthma: Frankincense essential oil is widely promoted for treatment of asthma. Results of a double blind, placebo-controlled study from Germany, published in 1998, showed that 70 percent of the patients treated with 300 mg of boswellia gum resin three times a day for six weeks showed improvement, compared to only 27 percent of patients in A control group.
Cancer: Laboratory studies have shown that frankincense has potential anticancer activity, including slowing the replication of cancer cells and killing some of them. However, to date no research has shown that it is useful in treating cancer in humans.
Menstrual cramps: No scientific research supports the use of frankincense for this purpose.
Ulcerative colitis: A preparation from Boswellia serrata gum resin led to remission of ulcerative colitis in 82 percent of treated patients in an Indian study published in 1997.
Cautions:
While considered safe for adults, some evidence indicates that using frankincense essential oil on the skin can cause contact dermatitis. We don't know enough about the safety of using frankincense during pregnancy and breast-feeding, so it is best to avoid it at these times. Do not put frankincense essential oil directly on your skin. Dilute it with a carrier oil first. Ingesting boswellia extract may increase the risk of bleeding if you take blood-thinning medication.
Dr. Weil's View On Frankincense
Natural anti-inflammatory herbs including boswellia may work as well as aspirin and ibuprofen for treating osteoarthritis. Follow package directions and give it at least two months before deciding if it is working for you.
Sources:
Gupta , V. Gupta , A. Parihar A, et al. "Effects of Boswellia serrata gum resin in patients with bronchial asthma: results of a double-blind, placebo-controlled, 6-week clinical study." European Journal of Medical Research, November 17, 1998.
Gupta, A. Parihar, P. Malhotra et al, "Effects of Boswellia serratagum resin in patients with ulcerative colitis."European Journal of Medical Research, January 1997.
J.E. Chrubasik, B.D. Roufogalis, S. Chrubasik,  "Evidence of effectiveness of herbal anti-inflammatory drugs in the treatment of painful osteoarthritis and chronic low back pain." Phytotherapy Research, July 2007.