Essential Oils: Oregano Oil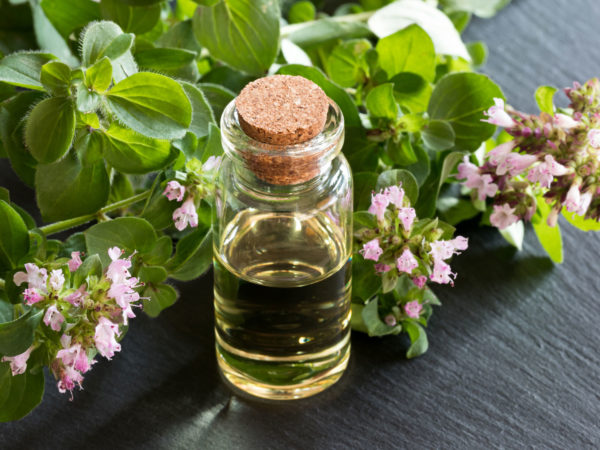 Oregano oil comes from the leaves and shoots of the flowering oregano plant (Origanum vulgare), a member of the mint family, though not the same species as the familiar culinary herb. Historically, oil of oregano has been used for a wide variety of health problems, ranging from intestinal parasites to colds and flu, earaches, acne, psoriasis, gum disease and varicose veins. That's only some of the many indications for which it has been recommended and heavily promoted online. Laboratory studies have found the oil to have some antioxidant, antimicrobial, antifungal, antiviral, and antispasmodic properties, but we have no studies confirming that it has these effects in humans.
Oregano Oil Uses
Eradicating parasites: The best evidence we have on oil of oregano's medicinal properties suggests that taking 200 mg three times a day for six weeks can help eradicate certain intestinal parasites, specifically Blastocystis hominis, Entamoeba hartmanni, and Endolimax nana.
High cholesterol: Some research has found that taking oil of oregano after meals for three months can reduce LDL ("bad") cholesterol and increase HDL ("good") cholesterol. But studies have shown that total cholesterol and triglyceride levels are not affected.
Antibiotic effects: An investigation from Georgetown University found that oregano oil and its component, caravacrol, worked as well as standard antibiotics to inhibit the growth of staphylococcus bacteria in test tubes and in mice. In addition, a 2013 review from Johns Hopkins noted that oil of oregano and many other essential oils might possess "significant antimicrobial activity against a wide range of microorganisms" and might prove useful as replacements for antibiotics, given the continued emergence of resistant bacteria. So far, however, no human studies have confirmed these suggestions. 
Cautions:
During pregnancy, oregano ingested in amounts larger than those found in food might cause miscarriage. The safety of oil of oregano while nursing hasn't been established. It might increase the risk of bleeding in people with bleeding disorders and increase the risk of bleeding during surgery even for those with no known bleeding disorders. It also may trigger allergic reactions in people sensitive to basil, lavender, marjoram, mint or sage.
Dr. Weil's View On Oregano Oil:
I urge you to view claims about the healing properties of oregano oil skeptically. If you decide to try it, do not ingest it. When buying it, make sure it is diluted in a carrier oil. Read directions carefully if you need to dilute it yourself, and never put undiluted oil on your skin. You can use a few drops of oil of oregano as part of steam inhalation therapy for sinus infections. Apart from that, I don't recommend it.
Source:
Natural Medicines Comprehensive Database, "Oregano," webmd.com/vitamins/ai/ingredientmono-644/oregano.