Essential Oils: Chamomile & Chamomile Oil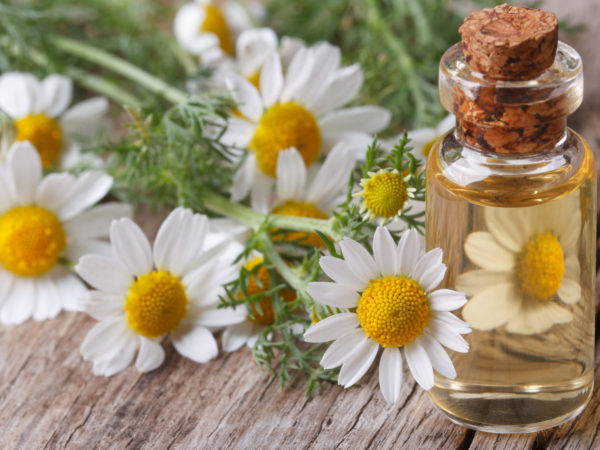 Chamomile (Chamomilla, Matricaria Recutita, Chamaemelum nobile) has long been recognized for its therapeutic value in folk and traditional medicine. There are two species of medicinal chamomile oil, both are members of the daisy family: German chamomile (Chamomilla recutita) and Roman chamomile (Chamaemelum nobile). The flowers of German chamomile contain a blue essential oil with anti-inflammatory, wound-healing, and antimicrobial effects. Roman chamomile essential oil is considered safe to use on the skin and orally. The active components of both are terpenoids and flavonoids.
Chamomile Oil Uses:
 Chamomile is soothing to the stomach, very mild and safe. It can be given to infants and young children with upset stomach and will help relieve upper gastrointestinal distress in people with heartburn and GERD (gastroesophageal reflux disease).
Chamomile tea is also mildly relaxing and sedating, a good remedy to have on hand for fussy infants and children.
Anxiety: In a placebo-controlled study with 103 cancer patients, massage with Roman chamomile essential oil reduced anxiety and improved symptoms.
Headaches: Topical use of Chamomile oil diluted in sesame oil can help ease migraines, according to researchers in Iran. It also may be helpful in treating other headaches.
Skin problems: Roman chamomile oil can be used to treat a wide variety of skin problems: acne, sunburn, boils, dry skin, eczema and other forms of dermatitis, insect bites and stings, itching and bruises.
In addition, studies have shown that a mouthwash containing chamomile oil can help control gingivitis. Research also suggests that chamomile oil can reduce the pain of knee arthritis, lessening the need for medication and improving physical function and easing stiffness. It also has been shown to ease symptoms and improve function in people with carpal tunnel syndrome.
Cautions:
Some research suggests that chamomile can cause problems during pregnancy and breastfeeding, including inducing uterine contractions that raise the risk of miscarriage. Pregnant and nursing mothers should not consume it. Chamomile may cause allergic reactions, more likely in those with allergies to related plants, such as ragweed. Chamomile appears to have minimal adverse interactions with other herbs or drugs.
Dr. Weil's View On Chamomile Oil:
You can buy extracts of chamomile in herb stores, and ordinary tea bags of it are available in most supermarkets. As long as they have a strong fragrance, they are fine to use. Brew the tea in a covered container to prevent loss of the volatile constituents in steam. Let the flowers steep in the hot water for 10 minutes before pouring.
Source:
Janmejai K. Srivastava et al, "Chamomile: A herbal medicine of the past with bright future." Molecular Medicine Reports, November 1, 2010, doi: 10.3892/mmr.2010.377