Nervous About Essential Oils?
I was alarmed to hear that lavender oil and tea tree oil can cause breast development in young boys. Should these products be avoided?
Andrew Weil, M.D. | September 11, 2019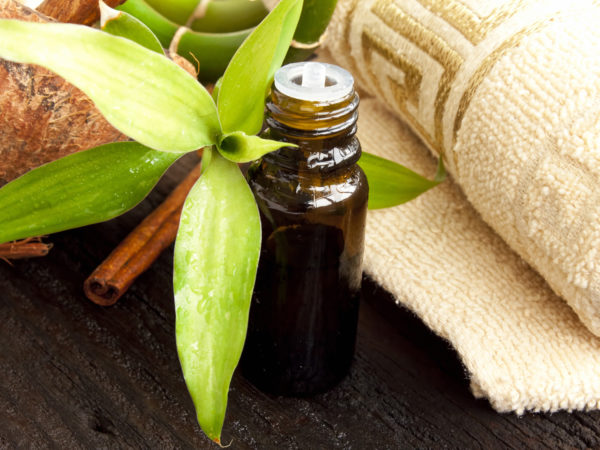 Concern about potentially harmful effects of lavender and tea tree oil in soaps and skin lotions surfaced in 2007 when three boys in Colorado aged 4,7 and 10 were diagnosed with enlarged breast tissue, a rare condition called prepubertal gynecomastia. All three had regularly used either lavender-scented soap and skin lotions or shampoos or styling products that contained tea tree oil or lavender oil.
The latest concern on this connection comes from a study published in August 2019 showing that use of lavender oil also was associated with abnormal breast growth in three prepubertal girls and one more boy. In 2018 researchers at the National Institutes of Environmental Health Sciences (NIEHS) determined that components of some essential oils can act as endocrine disrupters; some mimic estrogen while others block testosterone. Both kinds can influence sexual development and growth and might account for abnormal breast growth in boys.
The team noted that although a number of other cases have been reported that coincide with topical exposure to lavender and tea tree oil, all the youngsters' breasts went back to normal after they stopped using the products containing them. The overall number of cases is small.
The NIEHS researchers analyzed eight of the hundreds of compounds in lavender and tea tree oil, including four that are found in both: eucalyptol, 4-terpineol, dipentene/limonene and alpha-terpineal. They also tested four other compounds from either oil, exposing human cancer cells in test tubes to all eight in order to measure any changes in estrogen receptor and androgen (male hormone) receptor target genes. Lead researcher, J. Tyler Ramsey, reported that many of the chemicals tested occur in at least 65 other essential oils. And he suggested that since it appears that essential oil products have the potential to cause premature breast growth in youngsters, it may be best for children to avoid them.
Lavender essential oil has been used for centuries in topical products without being associated with any toxicity, and tea tree oil also has a long history of safe use. When the first cases of breast growth in boys came to light, I cautioned against exposing young children to high doses of any essential oils. I stand by that advice but also feel that occasional use of soaps or shampoos containing essential oils is probably okay.
Learn more about a variety essential oils from this guide.
Andrew Weil, M.D.
Sources:
Tyler Ramsey et al, "Chemicals in lavender and tea tree oil appear to be hormone disruptors." Study results presented at Endocrine Society annual meeting, March 18, 2018, Chicago, IL.
J.Tyler Ramsey et al, "Lavender Products Associated with Premature Thelarche and Prepubertal Gynecomastia: Case Reports and EDC Activities," The Journal of Clinical Endocrinology & Metabolism, August 8, 2019, doi.org/10.1210/jc.2018-01880