Are Spices Healthy?
I read that adding spices to your foods makes them healthier. If so, what spices are best to use?
Andrew Weil, M.D. | June 25, 2020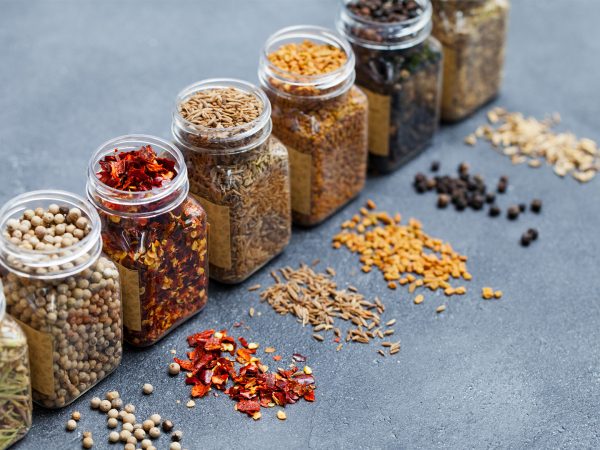 New research from Penn State suggests that adding spices to foods may make even high-fat and high-carbohydrate meals less likely to promote markers of inflammation. According to study leader Connie Rogers, Ph.D., associate professor of nutritional sciences, previous research has demonstrated anti-inflammatory properties of a number of different spices, including ginger and turmeric. Chronic inflammation is associated with many health problems, ranging from excess weight and obesity to cardiovascular disease and cancer. Studies also show that inflammation can rise rapidly after consuming a meal high in fat or sugar. Dr. Rogers said it isn't clear whether these spikes can lead to chronic inflammation, but it's suspected that they play a role, especially in overweight or obese individuals.
For the study, the researchers recruited 12 men age 40 to 65 who were overweight or obese and had at least one risk factor for cardiovascular disease. Each man ate three versions of a meal high in saturated fat and carbohydrates on three different days. One meal had no spices, another had two grams of a spice blend that included:
A third meal had six grams of the spice blend. The researchers drew blood samples from the men before each meal and hourly for four hours afterwards to measure inflammatory markers
Analysis of the data showed a reduction in inflammatory cytokines after consuming the meal with six grams of spices. Dr. Rogers said six grams translates roughly to between one teaspoon and one tablespoon, depending on how the spices are dehydrated. She added that while the researchers can't be sure which spice or spices contributed to the effects observed in the study, the results suggest that spices have anti-inflammatory properties that might help offset inflammation caused by high-carb and high fat meals.
Dr. Rogers noted that a second study using the same men conducted by another Penn State team found that including six grams of spices favorably influenced "flow mediated dilation", a measure of blood vessel flexibility and a marker of blood vessel health.
She added that if spices are palatable to you, you can use them to make high-fat and high-carb meals more healthful.
Although I recommend avoiding such meals, no matter how many spices they contain, the Penn State findings give us a new way of thinking about how spices can positively affect health. Here's where you can read more about spices and their many benefits.
Andrew Weil, M.D.
Source:
Connie J Rogers et al, "Spices in a High-Saturated-Fat, High-Carbohydrate Meal Reduce Postprandial Proinflammatory Cytokine Secretion in Men with Overweight or Obesity: A 3-Period, Crossover, Randomized Controlled Trial." The Journal of Nutrition, March 25, 2020; DOI: 10.1093/jn/nxaa063