Cooking With Spices: Rosemary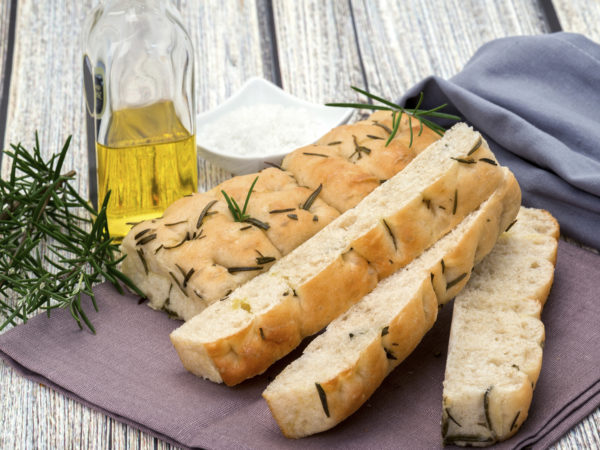 Rosemary (Rosmarinus officinalis L.) is an evergreen plant with a unique pine-like flavor and aroma that make it a good complement for rich, earthy dishes. Native to the Mediterranean region, rosemary now grows in temperate zones of Europe and America.
Historically, rosemary was used to stimulate and strengthen the memory – students in ancient Greece placed sprigs of rosemary in their hair while studying. Today, extracts of rosemary are still used in aromatherapy to increase blood flow to the brain, boost alertness and promote overall well-being. Its folk uses have focused on stimulating immunity, improving digestion, circulation and asthma, preventing or treating baldness, even repelling insects; however, more research is needed to support these claims.
Rosemary contains compounds that have both antioxidant and anti-inflammatory properties. Fresh rosemary is a good source of iron, while dried rosemary is a good source of calcium and fiber.
From a cosmetic standpoint, rosemary oil was used in the 14th century to make the first European alcohol-based perfume, formulated for Hungary's Queen Elizabeth. Today, the oil is touted as a treatment for wrinkles, oily skin and cellulite, though more research is needed to support these claims. Oil of rosemary, once separated from the plant, should never be ingested, as it can cause significant adverse effects.
For cooking, a little rosemary goes a long way in flavoring white meats, fish, soups and sauces. You can use the sprigs whole or chop the leaves, which are easily removed. Fresh rosemary is a better choice than dried for flavor – look for sprigs that are a deep sage green, and store in the refrigerator unwashed, wrapped in a slightly damp paper towel for up to two weeks. When you're ready, select how much you want, give it a quick rinse under cool water and pat dry. You can also freeze rosemary by covering sprigs with water or broth in ice cube trays. Dried rosemary will be good for about six months when tightly sealed in a glass jar and stored away from light and heat. Remember to select organic versions that are free of pesticide residues and that have not been irradiated, which lowers nutrient content.
Dr. Weil's take:
I am a great fan of the smell, taste, appearance and health benefits of rosemary. Desert-dwellers like me also appreciate its legendary hardiness. When the temperatures top 115 degrees F. and there has been no rain for weeks, rosemary is among the few herbs that remain upright, green and tasty. Its shrubs abound in Tucson, Ariz., where I live most of the year.
Rosemary's evocative aromatic compounds make it ideal for creating your own infused oil. Crush several sprigs of fresh rosemary, place in a sterilized glass jar, cover with slightly warmed olive oil, cool on the counter, cover tightly and then store in the fridge for up to three weeks. Remove the sprigs before use. This oil is great with simple, rustic bread and some grated Parmesan cheese!
The pale blue flowers are edible as well. Use in salads, steamed vegetables, and even in fresh fruit tarts as an edible decoration.
Rosemary is not just for cooking, it makes a great flea repellent as well. This is from The Natural Cat by Anita Frazier: Right after bathing your pet, boil a pint of water and add one teaspoon of fresh or dried rosemary. Let this steep for 10 minutes and strain. Cool until it reaches body temperature, then pour over your pet's coat, rub it in, and dry as usual. This will not only repel fleas, but will give your animal a glossy coat.
---
Try these rosemary recipes: