New Way to Find Breast Cancer?
What can you tell me about this new breast imaging system that finds more cancer than mammograms? Is it better than MRIs?
Andrew Weil, M.D. | November 11, 2008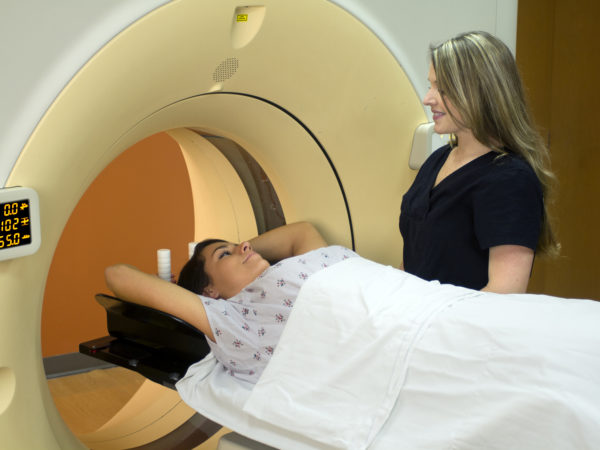 I assume you're asking about molecular breast imaging (MBI), a system that is being studied for cancer detection in high-risk women with dense breasts. In studies so far, MBI has found more tumors than showed up on mammograms, which aren't very good at spotting cancer in dense breast tissue. The new system uses a radioactive "tracer" given intravenously. The radiation is absorbed more readily by abnormal cells than by normal ones and lends a "glow" to these cells that can be seen with special equipment.
A Mayo Clinic engineer who has been working on MBI has reported on a study that compared it with mammograms. Both systems were tested on 940 women who have dense breasts (as do about one-quarter of all women 40 and older) and were considered at high risk of cancer. All told, 13 cases of breast cancer were found. MBI detected eight of them, one showed up on a mammogram and two were seen by both methods. Two other cases were missed entirely and turned up on later exams.
Now researchers are looking at how MBI stacks up against MRI (magnetic resonance imaging) for breast cancer detection. MRI is better than mammograms at finding cancer in dense breasts, but yields many false positives (mistaken indications of cancer when none is present) that lead to unnecessary biopsies. The false positive rate for mammograms is about nine percent and the false positive rate for MRI is even higher. The false positive rate for MBI, so far, is seven percent.
Another concern about MBI is the fact that it uses eight to 10 times the amount of radiation women get with mammograms, although I've read that engineers are working to lower that dose.
MBI will probably be less expensive than MRIs but more expensive than mammograms. The word is that MBI costs may be under $500 compared to more than $1,000 for MRIs. Right now, however, MBI is only being used experimentally in studies to see how it stacks up against the other methods of detecting breast cancer.
Andrew Weil, M.D.