Why Won't Menopause Symptoms Quit?
I am in my mid-sixties and have been dealing with hot flashes since I reached menopause 15 years ago. I don't know anyone else affected this long. I'm also experiencing painful sex. Is all this normal?
Andrew Weil, M.D. | July 17, 2018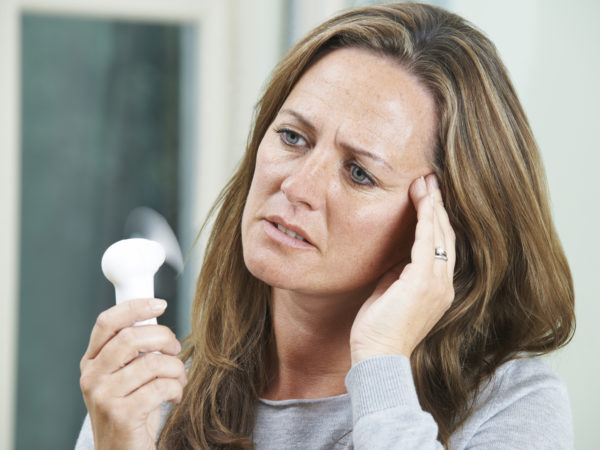 You're not alone. A study from the Mayo Clinic published in May 2018 found that more women than previously believed continue to have hot flashes and other symptoms of menopause into their 60s, 70s and even 80s. Researchers asked nearly 5,000 women who came to Mayo's specialty menopause clinic whether they were experiencing hot flashes and night sweats, both of which are common at the onset of menopause. Of the women participating, 921 were age 60 or older and 41.2 percent of them reported that they continued to have moderate to severe hot flashes and night sweats.
The researchers found that the older women experiencing hot flashes and other symptoms were more likely to be married or in a committed relationship and less likely than other women to describe their health as "excellent." They also were more likely to have experienced surgical menopause (removal of ovaries during a hysterectomy or other operation). Caffeine consumption appeared to increase the likelihood of hot flashes and night sweats in women age 70 and older. Not surprisingly, menopausal symptoms were less likely to occur among women using hormone replacement therapy.
The researchers noted that the benefit of hormone replacement therapy generally outweighs the risk in appropriately selected women younger than 60 who are within 10 years of menopause. But they wrote that it is "unclear as to when the appropriate time is to stop hormones," adding that the Northern American Menopause Society, the Endocrine Society, and The American College of Obstetricians and Gynecologists all recommend against arbitrarily discontinuing hormone replacement therapy based on age alone.
Painful sex due to vaginal dryness is common after menopause, but according to a survey of about 800 women age 45 and older and of 305 women's health care providers, many women are not well informed about the subject. The survey results, reported by "HealthyWomen," a nonprofit health information service, showed that 62 percent of 555 women responding indicated that they experienced pain during intercourse and that among 308 respondents, 69 percent did not know that the problem is treatable. Of 335 respondents who reported frequent pain during sex, 73 percent described the pain as moderate to severe. The survey also found that 33 percent of 314 women indicated they were avoiding sex altogether. And 60 percent of 337 menopausal women responded that they had never mentioned painful sex to a health care provider.
Unfortunately, women too often don't discuss menopause difficulties with their health care providers and as a result may miss out on treatments that could help them.
Andrew Weil, M.D.
Source:
Paru David et al, "Vasomotor symptoms in women over 60: results from the Data Registry on Experiences of Aging, Menopause and Sexuality." Menopause May 7, 2018 doi: 10.1097/GME.0000000000001126.