A Mug Of Mugwort Tea?
Can mugwort tea help regulate my menstrual cycle?
Andrew Weil, M.D. |October 26, 2021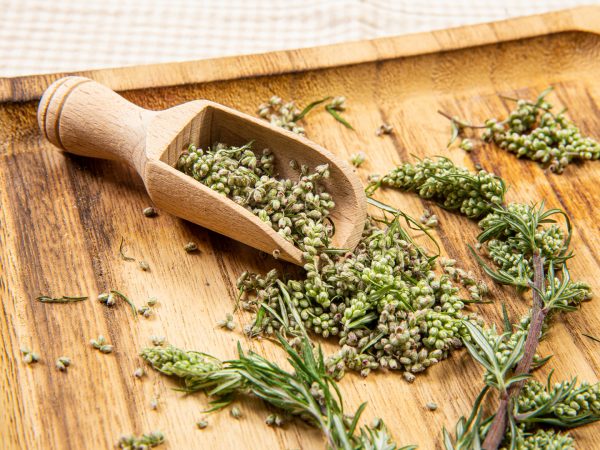 Possibly — but I'd want to see more evidence of its effectiveness before recommending it. Mugwort (Artemisia vulgaris) is a perennial plant related to ragweed that is native to Europe, Asia, and North Africa. Gardeners tend to view it as a troublesome weed because it spreads easily and can quickly take over gardens, edging out other plants. However, herbalists have a more positive view of mugwort, believing it offers health benefits.
In Europe during the Middle Ages, mugwort was known as the "mother of herbs" and was thought to help protect against fatigue — as well as ward off evil spirits and wild animals. Its primary use in Asia was moxibustion, a traditional Chinese medicine technique that often accompanies acupuncture. During moxibustion, a practitioner burns cones or sticks of dried mugwort leaves on specific parts of the body, often to increase the effectiveness of acupuncture or other therapies. Moxibustion has shown some promise as a treatment for osteoarthritis of the knee.
Mugwort can also be taken internally, in the form of supplements or tea, or smoked. People may use it to treat digestive conditions, improve energy, and reduce scarring. However, there is little good clinical evidence to support most of these claims. Mugwort had initially been shown in laboratory studies to kill human cancer cells — but further research suggests that it may destroy healthy cells as well.
As for your question, mugwort does have a reputation as a treatment for irregular menstrual periods, as well as for menstrual cramps and hot flashes. Some herbalists believe that mugwort can relax the uterus and in turn induce menstrual periods. Again, there is little evidence for these specific physiologic responses, other than anecdotal reports.
Mugwort appears to be generally safe, but there are a few precautions worth noting. First, women who know they are (or think they may be) pregnant should avoid taking it, since it might trigger a miscarriage. We don't know enough about mugwort to say whether it is safe to use while breastfeeding. You should also avoid it if you are allergic to related plants, including ragweed, chrysanthemums, marigolds, and daisies, as well as birch, wild carrot, celery, fennel, and tobacco. If you are considering using mugwort to help regulate your menstrual cycle, I recommend doing so under the guidance of a trained herbalist.
Andrew Weil, M.D.
Source:
Halina Ekiert, et al. "Significance of Artemisia Vulgaris L. (Common Mugwort) in the History of Medicine and Its Possible Contemporary Applications Substantiated by Phytochemical and Pharmacological Studies," Molecules, 2020 Oct; 25(19): 4415. doi: 10.3390/molecules25194415