Could Green Tea Cause A UTI?
I've heard about the health benefits of green tea and I've been drinking it a lot lately. But now I have a urinary tract infection – could the green tea be causing my UTI?
Andrew Weil, M.D. | June 25, 2021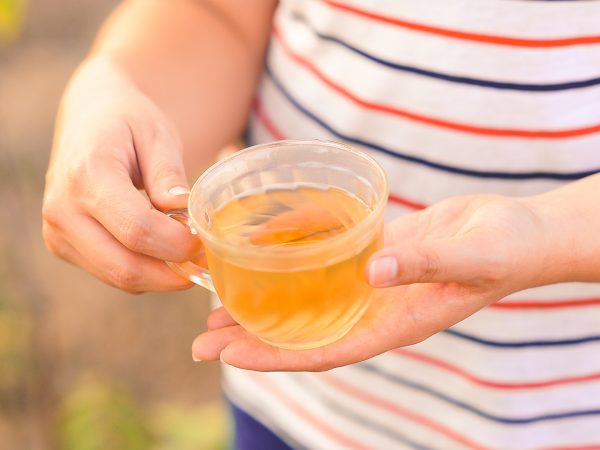 Green tea has been shown to have myriad health benefits, from reducing cholesterol levels to protecting against certain cancers to improving focus, so adding it to your daily diet is definitely a plus. In addition, green tea has antibacterial properties that make it remarkably effective against urinary tract infections (UTIs), so it's highly unlikely that it has anything to do with yours – in fact, it may even help you get rid of it.
Because of their urinary anatomy women are more vulnerable than men, but anyone can get a UTI, which is almost always caused by Escherichia coli, a common bacterial pathogen. Unfortunately, E. coli has become resistant to many of our first-line antibiotics, making it more important than ever to find natural treatments. Green tea contains polyphenols, including the catechin epigallocatechin (EGC), a natural antimicrobial that is excreted in urine, where it can help address a UTI.
In fact, one study looked at 80 samples of E. coli that had caused a urinary tract infection, 63 of which were resistant to at least one common antibiotic. The study tested what concentrations of EGC from green tea would have a positive effect against the bacteria. All of the bacterial strains tested were vulnerable to EGC's antimicrobial effects even at low concentrations, suggesting that just a single cup of green tea could be helpful against a UTI caused by E. coli.
Perhaps even more dangerous are UTIs caused by the difficult-to -treat methicillin-resistant Staphylococcus aureus (MRSA). Methicillin was once reliably effective against penicillin-resistant bacteria, notably staph infections, so the emergence of methicillin-resistant strains has been a troubling development. One study in an Irish hospital found that nearly 28% of urine samples that contained S. aureus were methicillin resistant.
In a recent study that looked at the effectiveness of green tea as an antimicrobial against a skin condition, 250 patients infected with S. aureus (more than 89% of whom had multidrug-resistant strains) were treated with green tea, with an 86% cure rate. This holds great promise for the use of green tea against UTIs caused by MRSA.
While you're working on resolving your UTI, you may want to avoid caffeinated beverages, which are bladder irritants. If you choose to use decaffeinated green tea, look for products that were decaffeinated through effervescence,  a process that helps retain those all-important polyphenols.
Andrew Weil, M.D.
Sources:
Wanda Reygaert and Ilir Jusufi,  "Green tea as an effective antimicrobial for urinary tract infections caused by Escherichia coli." Front Microbiol. 2013; 4: 162. ncbi.nlm.nih.gov/pmc/articles/PMC3684790/
Afsaneh Noormandi and Fatemeh Dabaghzadeh, Effects of green tea on Escherichia coli as a uropathogen." J Tradit Complement Med. 2015 Jan; 5(1): 15–20. ncbi.nlm.nih.gov/pmc/articles/PMC4488178/
Looney AT, Redmond EJ, Davey NM, et al. "Methicillin-resistant Staphylococcus aureus as a uropathogen in an Irish setting." Medicine (Baltimore). 2017;96(14):e4635. doi:10.1097/MD.0000000000004635
Umashankar N, Pemmanda B, Gopkumar P, Hemalatha AJ, Sundar PK, Prashanth HV. "Effectiveness of topical green tea against multidrug-resistant Staphylococcus aureus in cases of primary pyoderma: An open controlled trial." Indian J Dermatol Venereol Leprol. 2018;84(2):163-168.
Gaur R, Bao GH. "Chemistry and Pharmacology of Natural Catechins from Camellia sinensis as anti-MRSA agents." Curr Top Med Chem. 2021 May 23.
Aram Kim, Jae Hak Ahn, Woo Suk Choi , Hyoung Keun Park, Sehwan Kim, Sung Hyun Paick, Hyeong Gon Kim, "What Is the Cause of Recurrent Urinary Tract Infection? Contemporary Microscopic Concepts of Pathophysiology." Int Neurourol J,  2021 May 14. pubmed.ncbi.nlm.nih/34044483/