Apple Cider Vinegar For Liver Health?
I have been seeing a lot of claims that apple cider vinegar can detox the liver. Is this true?
Andrew Weil, M.D. | March 7, 2023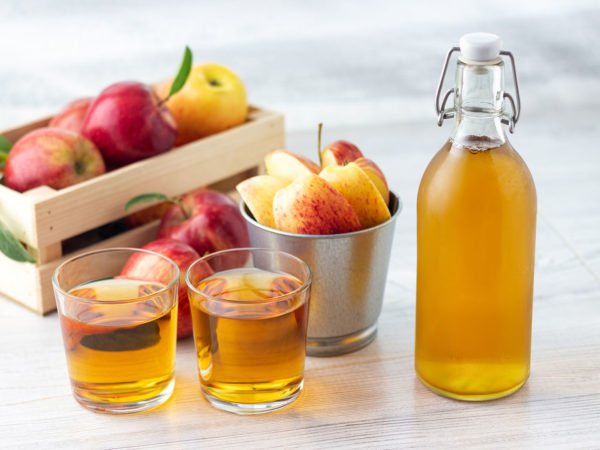 Apple cider vinegar is inexpensive, has a long shelf life, is fat free and has only 3 calories per tablespoon. If it really could do what some people claim it does, it would be quite the miracle indeed. Unfortunately, there is no good evidence that apple cider vinegar will improve your digestion, help you lose weight, or cleanse your body of toxins. It may have some benefits – taken with a high-carb meal it can keep food in your stomach longer, which tempers the spike in blood sugar many carbohydrates cause – but don't expect it to reverse damage to your liver.
The liver is a workhorse of an organ — the largest inside the body and second only to the skin as a percentage of body weight — and certainly one of the most important. Its functions include processing nutrients from food, managing blood sugar levels, and clearing toxins from the blood. For most people who eat a healthy diet and who don't overdo it on alcohol or take certain medications, the liver does its job for a lifetime. But a poor diet, lack of exercise, obesity, and an excess of alcohol can all contribute to liver compromise and damage.
That damage may include fatty liver disease (steatohepatitis, either alcoholic or non-alcoholic), and cirrhosis. Early stages of fatty liver disease may be reversible with improvements in diet, reduced alcohol consumption, and weight loss, but many people are unaware of the problem at first since it often develops slowly, with few symptoms. More advanced stages of liver disease are difficult, if not impossible, to reverse. Those at risk for fatty liver disease – because of obesity, metabolic syndrome, or diabetes, or because they take medications known to be hard on the liver – should have regular blood tests to monitor for elevated liver enzymes, which is often a sign of a developing problem.
As with so many diseases, the best strategy for avoiding liver problems is prevention. An anti-inflammatory diet low in added sugars, with minimal alcohol, and rich in fresh fruits and vegetables, is the foundation for a healthy liver. (See my anti-inflammatory food pyramid here.) Get plenty of exercise, keep your weight in a healthy range, and use alcohol prudently. Save your apple cider vinegar for better uses.
By the way, you may be surprised by how many common medications, including acetaminophen, have toxic effects on the liver. The LiverTox database, maintained by the National Institute of Diabetes and Digestive and Kidney Diseases of the National Institutes of Health, is  a reliable resource to check prescription drugs, over-the-counter medications, and supplements, for potential liver toxicity.
See also: Exercise for Fatty Liver Disease
Andrew Weil, M.D.