Who Are The Three Sisters?
I'm curious about the Three Sisters way of planting and eating. Can you discuss the nutritional benefits of the foods involved?
Andrew Weil, M.D. | November 3, 2019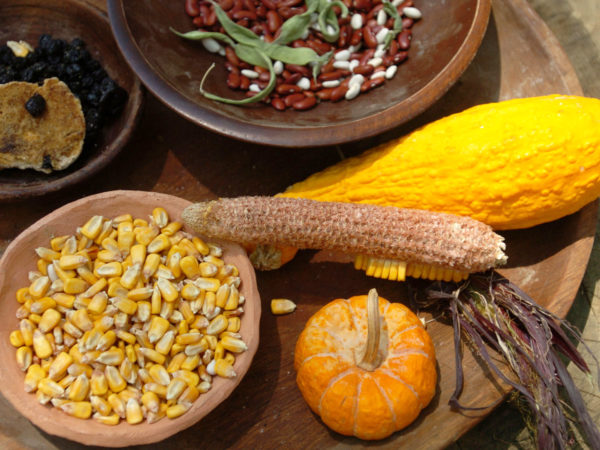 The Three Sisters is a Native American legend and a dynamic cropping method that the Iroquois are said to have been practicing for three centuries before European settlers arrived in North America. The Three Sisters are corn, beans and squash that were (and still are) planted together because they thrive next to each other and also provide a healthy diet. Seeds for all three are planted on an elevated mound or hill, which promotes needed soil drainage. Corn is planted first, and when it starts to grow, the bean seeds are put in, and finally the squash. The corn provides support for the beans to climb; the beans "fix" nitrogen from the air into the soil for the benefit of all three plants. The squash leaves shade the ground, keeping it cool.
The Three Sisters yielded a healthy diet for centuries, although rather than being eaten in the summer, the vegetables were typically dried and saved for use during the winter.
Corn:
When you eat fresh corn on or off the cob, you get fiber, along with niacin, phosphorous, potassium and vitamin A, as well as starch and protein. When corn is in season locally, you'll likely find that it is freshest and most delicious, especially when you buy it at farm stands or farmers' markets rather than at supermarkets. Opt for organic corn whenever possible.
Beans:
The beans can be different varieties of pole beans, including green beans, wax or lima beans or any type of dried beans; they are low in calories and high in fiber, vitamin A and vitamin C, calcium and iron. Dried kidney beans, pinto beans, black beans or garbanzo beans are high-fiber, high-protein foods. Just one cup of cooked kidney beans gives you 45 and 31 percent of the Daily Value of fiber and protein, respectively, as well as 42 percent of the Daily Value of manganese, a mineral essential for energy production and antioxidant protection.
Squash:
The third sister often refers to pumpkin, which is recommended by Cornell University College of Agriculture and Life Sciences for a Three Sisters garden. A cup of cooked pumpkin is rich in beta-carotene and also gives you some calcium, magnesium, vitamin C, niacin, folate (vitamin B9) and vitamin E. Alternatives are thick-skinned winter squashes such as butternut or acorn squash that can be stored for months. Winter squash provides calcium, potassium, vitamin A and vitamin C along with iron and phosphorus, and high quality, low-glycemic-load carbohydrates.
Andrew Weil, M.D.
Learn more about the science of the Three Sisters cropping system here.
Source:
gardening.cals.cornell.edu/lessons/curricula/the-three-sisters-exploring-an-iroquois-garden/how-to-plant-the-three-sisters/