Frittata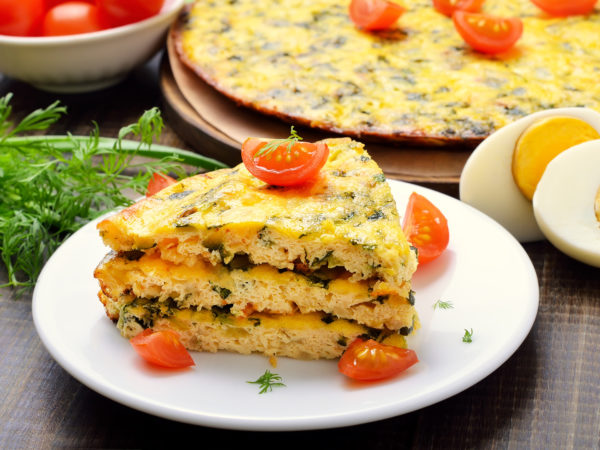 This is a substantial dish dense with eggs, veggies, and seasonings. Perfect for any meal or on the go!
Frittatas, or Italian omelets, are a bit easier to make than omelets, though the techniques are similar. I like frittatas because they are a substantial dish – dense with eggs, vegetables, and seasonings. You can eat a slice or two for breakfast, brunch, or lunch, or you can warm up a slice for a quick dinner on those evenings when you get home late from work. I like to serve the frittata with a mixed green salad.
Food as Medicine
In addition to providing 5.5 grams of protein each, eggs are a valuable source of choline. Choline, found in egg yolks, is a micronutrient vital for optimum brain health, nerve signaling, cholesterol transport, energy metabolism and maintenance of cell membranes.
Ingredients
5 eggs
2 tablespoons grated Parmesan cheese
1 clove garlic, finely chopped
1/4 cup chopped onion
1 tablespoon olive oil
1 teaspoon Italian seasoning
1/2 teaspoon freshly ground black pepper
1/2 teaspoon salt
1/4 cup sliced mushrooms
1/2 cup sliced zucchini
1/2 cup asparagus, coarse ends removed, spears cut into 2-inch pieces
2 tablespoons grated cheddar cheese
GARNISH
1 avocado, cut into wedges
1 tomato, cut into wedges
Instructions
Preheat broiler.
Lightly beat eggs and Parmesan cheese in a bowl.
Put the garlic, onions, and olive oil in an ovenproof sauté pan and cook over medium heat until the onions become limp. Add the spices. Add the mushrooms, zucchini, and asparagus and sauté until the onions are limp and transparent, about 2 1/2 to 3 minutes.
Pour the egg batter over the vegetables, shaking the pan to keep the eggs from sticking to the bottom. Loosen the edges of the omelet with a spatula and tilt the pan so that the uncooked part runs around the pan. Just before the eggs are about to set, sprinkle the grated cheddar cheese on top and remove from the heat.
Put the pan under the broiler on the highest shelf until the top becomes brown, about 2 minutes. Slide the frittata onto a platter and cut into wedges. Garnish with avocado and tomato wedges. Serve immediately.