Is Fake Meat Healthy?
I'm wondering about the non-meat burgers that have become so popular. Are they healthy? Can you tell me what's in them? Any opinion on their taste?
Andrew Weil, M.D. | July 11, 2019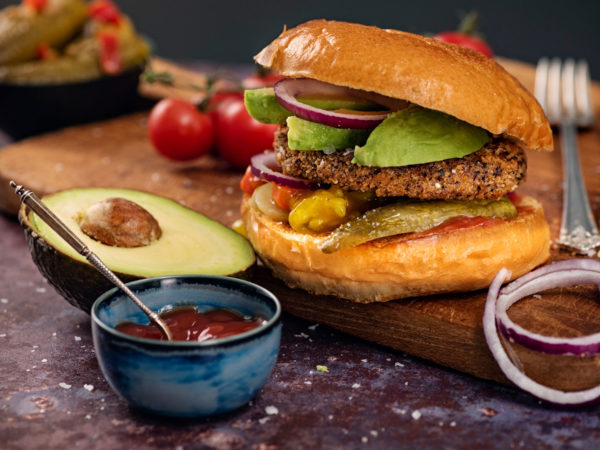 The plant-based burgers you ask about certainly have become widely successful. More people are realizing that eating too much red meat isn't healthy – studies have shown that consuming a lot of it can increase the risk of colon cancer and cardiovascular disease. The popularity of these burgers also reflects the growing recognition that meat consumption has a negative effect on the environment; raising animals for food increases greenhouse gas emissions and other environmental pressures that will only escalate if we don't cut back.
Keep in mind, however, that the new non-meat burgers are heavily processed foods. The ingredients in one of them, the Beyond Burger, include pea protein isolate, expeller-pressed canola oil, refined coconut oil, water, yeast extract, maltodextrin, natural flavors, gum arabic, sunflower oil, salt, succinic acid, non-GMO modified food starch, cellulose from bamboo, methylcellulose, potato starch as well as beet juice extract, ascorbic acid and annatto extract – these last three are used to maintain the burger's beef-like color.
Another product, the Impossible Burger, contains water, textured wheat protein, coconut oil, potato protein, natural flavors, two percent or less of leghemoglobin (heme protein), yeast extract, salt, soy protein isolate, konjac gum, and xanthan gum. The leghemoglobin is what makes the fake burgers "bleed" red like meat burgers.
Whether or not the fake burgers are healthier than the real things is questionable. While they have less cholesterol, they tend to be high in sodium. One product, the Impossible Whopper has 1,240 mg of sodium, 260 more than a regular Whopper. The Beyond Burger contains 380 mg of salt, more than you would likely get in a regular hamburger.
Another concern I have about these products has to do with glyphosate, the active ingredient in the pesticide Roundup, which is used on soy and pea protein, ingredients in the fake burgers. The Detox Project, a research organization that tests foods for glyphosate, reports finding high levels in organic pea protein than in conventional versions. (In general, however, glyphosate is much higher in conventional foods than organic.) One of its directors has been quoted in news reports as saying "we can hardly find a clean pea protein source anywhere." In 2015 the World Health Organization classified glyphosate as a probable carcinogen, and in 2017 California did the same and also required that products containing glyphosate carry warning labels on their packages.
A review of human and animal studies published in 2016 linked exposure to glyphosate to liver and kidney damage, endocrine disruption and an increased risk of non-Hodgkin's lymphoma. It also disrupts the gut microbiome. We don't yet know how much is potentially harmful to humans and whether current exposure levels are above or below that mark.
After trying some of the plant-based burgers, I'm not inclined to eat them. The Beyond Burger has a meat-like texture, but I'm turned off by an unpleasant underlying taste that reminds me of canned peas. I preferred the appearance, texture, and taste of the Impossible Burger but don't like some of the ingredients and the possibility of glyphosate contamination.
Andrew Weil, M.D.
Source:
Benjamin Goldstein et al, "Potential to curb the environmental burdens of American beef consumption using a novel plant-based beef substitute," PLoS One, December 6, 2017, d oi: 10.1371/journal:pone.0189029