Can Acne Be Caused By Polycystic Ovary Syndrome?
I was recently diagnosed with polycystic ovary syndrome. Could this explain my frequent breakouts?
Andrew Weil, M.D. | July 9, 2021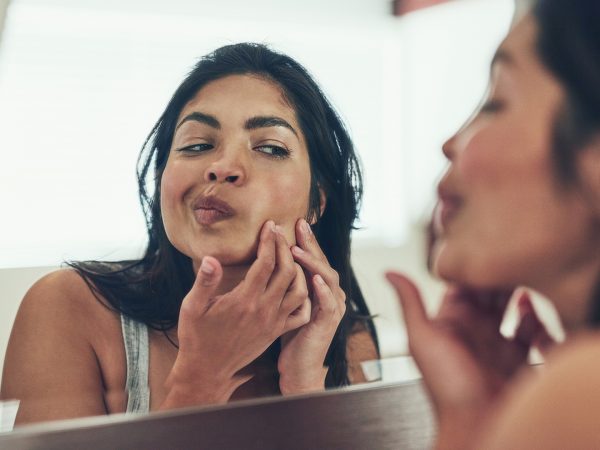 Absolutely. Polycystic ovary syndrome, or PCOS, is a type of hormonal disorder that can affect women of childbearing age. In this condition, the pituitary gland produces an excess of luteinizing hormone (LH) and gonadotropin-releasing hormone (GnRH), without an increase in follicular-stimulating hormone (FSH). This imbalance triggers the ovaries to produce higher-than-normal levels of hormones known as androgens, which can influence the development of male characteristics. This hormonal disruption prevents the ovaries from releasing an egg, which instead remains in an ovary and develops into multiple small noncancerous cysts.
Excessive androgens in women can lead to a number of clinical concerns, such as irregular or absent menstrual periods, fertility challenges, and insulin resistance. Many women with PCOS also experience changes in their physical appearance, including weight gain, excessive hair growth on the face and body, and, as you mentioned, acne. According to some estimates, between 10 and 34 percent of women with PCOS also develop acne. As with other types of hormonally driven acne, that caused by PCOS typically develops on a woman's lower face, including the jaw, chin, and upper neck. It can also affect the chest and upper back. Acne related to PCOS tends to be larger, deeper, and harder to treat than other forms. It is also likely to flare up before or during a woman's menstrual period.
Treating PCOS may also help lessen your chances of developing PCOS-related acne. Conventional treatments include medications to regulate the menstrual cycle (such as oral contraceptives and progesterone), medications that block androgens (such as spironolactone), and medications used to treat insulin resistance (such as Metformin). Oral contraceptives that contain types of progesterone that block the effects of androgens may be particularly helpful — three to six months of use has been associated with an up to 60 percent reduction in acne in the majority of women who take these medications.
Some integrative approaches may help, too: Along with maintaining a healthy weight, I recommend following an anti-inflammatory diet, avoiding conventionally raised beef and dairy products (which may contain residues of estrogenic hormones used as growth promoters), and increasing your intake of whole soy foods (which contain isoflavones, substances that may help regulate hormone imbalances). Be sure to get plenty of regular exercise as well. Finally, consider working with a practitioner of traditional Chinese medicine, who may recommend peony and licorice, two herbs that have been studied for PCOS, as well as acupuncture.
In addition, be sure to wash your face regularly with a gentle cleanser, rinse with lukewarm water, and avoid popping pimples and picking at your skin. A dermatologist may be able to prescribe topical medications to prevent and treat acne as well.
Andrew Weil, M.D.
Sources:
"10 skin care habits that can help clear acne," American Academy of Dermatology. aad/public/diseases/acne/skin-care/tips
"Polycystic ovary syndrome," U.S. Department of Health & Human Services Office of Women's Health, Page updated April 1, 2019. womenshealth/a-z-topics/polycystic-ovary-syndrome
Shalini Gainder et al, "Update on Management of Polycystic Ovarian Syndrome for Dermatologists," Indian Dermatol Online J, Mar-Apr 2019; 10(2): 97-105. ncbi.nlm.nih/pmc/articles/PMC6434760/