What Causes Adult Acne?
Is it true that fats and carbohydrates in the diet increase the risk of acne in adults? Are there any particular foods I should avoid?
Andrew Weil, M.D. | July 30, 2020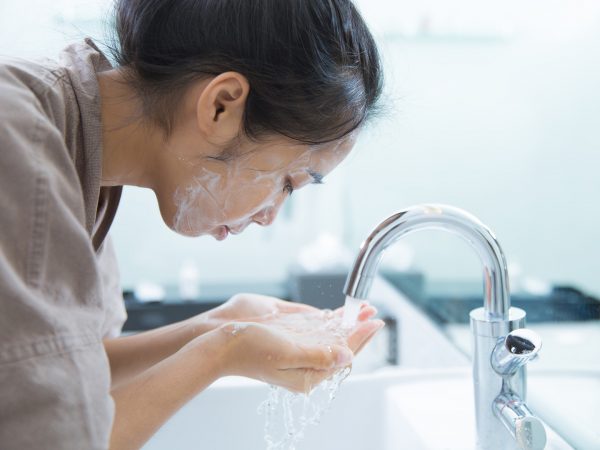 The latest research on adult acne comes from France, where researchers found that habitual consumption of fatty and sugary foods were associated with outbreaks of adult acne. The investigators, from the University of Paris, looked at the daily dietary records of nearly 25,000 adults before determining that eating just one portion of fatty or sugary food daily was associated with a 54 percent higher risk of acne. Drinking a single glass of a sugary beverage daily was linked to moderately higher odds of developing recurrent acne, as was drinking a glass of milk a day.
The researchers found that eating an unhealthy diet, especially one rich in energy-dense foods such as French fries, cookies and other sweets, was associated with a higher risk of acne. They also reported that the associations between food and drink and adult acne were dose dependent. For example, five glasses of milk, five glasses of sugary beverages or a complete meal of fatty and sugary products all were linked to worse acne outbreaks.
Interestingly, consumption of milk chocolate increased the acne risk by 28 percent while dark chocolate, which is less fatty, was linked to a 10 percent lower acne risk.
This research may support the hypothesis that the Western diet (rich in animal products and fatty and sugary foods) promotes development of adult acne.
For the study, 24,452 adults in France completed an online questionnaire on their experiences with acne. Nearly half reported having had acne. About 60 percent of the participants were age 55 or older. They all completed a series of 24-hour dietary recalls, each one six months apart. These provided information on the participants' average daily intake of fruit, vegetables, meat, fish, milk, dark chocolate, milk chocolate, refined cereals, snacks, fast foods and fatty and sugary products, as well as their intake of vitamins, zinc, fiber, carbohydrates, lipids, proteins and saturated fatty acids.
In an editorial accompanying publication of the study, John Barbieri, M.D., of the University of Pennsylvania, wrote that the French findings are largely in line with prior observational studies suggesting an association between acne, milk consumption and a high glycemic-load diet. He added that before we can confidently make dietary recommendations for patients with acne, trials are needed to evaluate whether dietary interventions can improve or prevent the disorder and how the effect of these changes compares with standard treatments.
Andrew Weil, M.D.
Source:
Laetitia Penso et al, "Association Between Adult Acne and Dietary Behaviors:  Findings from the NutriNet-Santé Prospective Cohort Study," JAMA Dermatology, June 10, 2020, doi" 10.1001/jamadermatol,2020.1602