Can Common Drugs Affect Memory?
I'm wondering about anticholinergic drugs, which I read may increase the risk of Alzheimer's disease. How would you know if you are taking one of them?
Andrew Weil, M.D. | October 19, 2020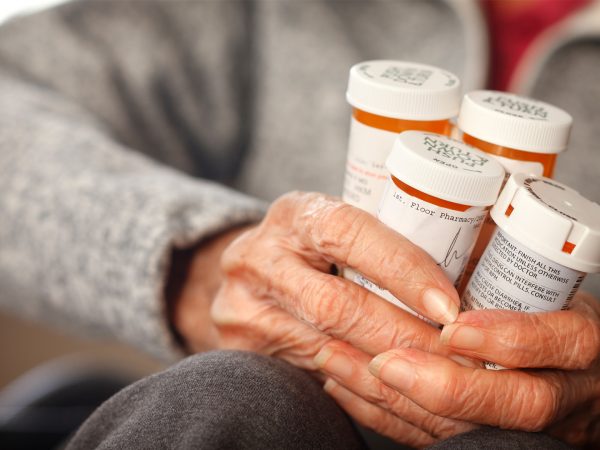 There are more than 100 anticholinergic drugs, some of which are available by prescription while others are sold over the counter. Reportedly, these drugs are used by 70 percent of seniors for treatment of conditions such as:
A study published in September 2020 found a link between use of these drugs and an increased risk of Alzheimer's disease and mild cognitive impairment, which can be a precursor to dementia. The most commonly used anticholinergics were metoprolol and atenolol for reducing high blood pressure, loratadine, an antihistamine, and bupropion, an antidepressant.
The new research from the University of California San Diego found that cognitively normal people who took at least one anticholinergic drug were 47 percent more likely than those not taking any of these medications to develop mild cognitive impairment over the next decade. This condition can be a precursor to dementia.
A total of 688 individuals whose average age was 74 took part in the study. The researchers reported that one third of the participants were taking anticholinergic drugs, with an average of 4.7 of these medications taken per person. None had problems with thinking and memory at the outset. All reported whether or not they were taking any anticholinergic drugs within three months of the start of the study at least once a week for more than six months. All took cognitive tests annually for up to 10 years.
Study leader Lisa Delano-Wood PhD. said the new findings suggest that reducing the use of anticholinergic drugs "may be an important way to prevent the negative consequences of these drugs on thinking skills, especially for people who have an elevated risk of developing Alzheimer's disease." She called for more research to determine if avoiding the drugs could result in a reduction of mild cognitive impairment and Alzheimer's disease.
The study found that of the 230 individuals who were taking anticholinergic drugs, 51 percent later developed mild cognitive impairment, compared to 42 percent of those who were not using these drugs. After adjusting for depression, the number of medications taken, and history of heart problems, individuals taking at least one anticholinergic drug had a 47 percent increased risk for developing mild cognitive impairment.
The study also found that participants with biomarkers for Alzheimer's disease in their cerebrospinal fluid who took anticholinergic drugs were four times more likely to later develop mild cognitive impairment than people who were not taking the drugs and did not have the biomarkers.
The researchers urged individuals taking anticholinergic medications to discuss use of the drugs with their doctors or pharmacists before making changes to their medications. Be aware that in some cases, stopping use of these drugs suddenly can cause adverse effects.
Andrew Weil, M.D.
Source:
Alexandra J. Weigand et al, "Association of anticholinergic medication and AD biomarkers with incidence of MCI among cognitively normal older adults." Neurology, September 4, 2020; 10.1212/WNL.0000000000010643 DOI: 10.1212/WNL.0000000000010643