2 Ways To Protect The Brain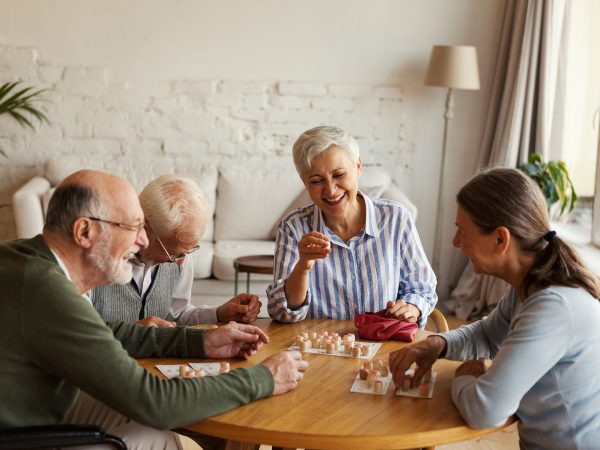 Roughly 5.8 million Americans have Alzheimer's disease; that number is expected to grow to 14 million by 2060. Given its prevalence and consequences, it's no wonder that many of us are afraid of developing the condition – one study of nearly 1,500 people in Germany reported that more than 70% felt at least a little fearful of dementia. Unfortunately, the results of clinical testing of drugs intended to slow or reverse the progression of dementia have been disappointing thus far, but there are two strategies that may help keep the devastating – and often fatal – deterioration of the brain that characterizes Alzheimer's at bay.
First, the correlations between healthy eating and cognitive function continue to appear strong. In many studies, those who eat a plant-based diet rich in antioxidants, omega-3 fatty acids, and other staples of the anti-inflammatory Mediterranean diet had a lower risk of developing Alzheimer's disease than those who eat more animal proteins, processed foods, and sugars.
In a study published in 2021 in the Journal of the American Geriatrics Society, researchers studied more than 1,000 people in a Mediterranean population, all over age 64, who did not have dementia. Over the course of three years the participants were monitored for cognitive changes, and the results were compared against their dietary intake. At the end of the follow-up period, 62 cases of dementia were observed. Those participants who had the best adherence to a Mediterranean diet were found to have a 72% lower risk of dementia when compared to those with the lowest adherence. The results were consistent with earlier studies of other populations that found reduced risk of dementia in those who followed a Mediterranean diet.
In addition, one U.S. based study reviewed the brain scans of 70 adults between the ages of 30 and 60, about half of whom followed a Mediterranean diet, over a three-year period. Although none of the 70 showed signs of cognitive dysfunction at the beginning of the study, those who did not follow a Mediterranean diet showed biomarkers associated with Alzheimer's disease. The differences in brain images widened over the three years of the study, with the non-Mediterranean diet group showing increases in the biomarkers associated with dementia. That should be a wake-up call for all of us. The seeds of cognitive decline later in life are being sown in young adulthood and middle age, and preventive steps early on can help protect against dementia in older years.
To help reduce your risk of a wide variety of diseases, including not only Alzheimer's but also heart disease, cancer, and diabetes, it is advisable to consume more omega-3 fatty acids and fewer omega-6 fatty acids. A good way to do this is to add wild-caught fatty fish such as Alaskan salmon to your diet, and reduce consumption of processed and fried foods, which tend to be saturated with omega-6-rich soybean oil. Rebalancing the ratios of these fats is an important component of an anti-inflammatory diet.
Second, you've probably heard that mentally stimulating activities and staying socially engaged and active can reduce the risk of Alzheimer's disease. A review in the Journal of Alzheimer's Disease looked at studies that included more than 2 million subjects and found that poor social engagement was associated with an increased risk of dementia. Risk factors included living alone, not participating in the community, and having poor social interactions. Depression magnified the risk of low social connections.
Even more notably, a new study from Rush University reported on 1,903 older individuals who were evaluated over several years for participation in cognitively stimulating activities. None had been diagnosed with dementia at the beginning of the study, but 457 of them showed signs of dementia after a mean of 6.8 years. Results showed that those who regularly engaged in activities that were mentally challenging developed dementia at older ages than those with lower levels of cognitive activity. Researchers concluded that staying mentally active – following the news, playing games, reading, going to the theater – could delay the onset of Alzheimer's symptoms by as much as five years.
Although we still have much to learn, the current research is clear on this issue: challenging your mind on a regular basis helps to lower the risk of developing Alzheimer's disease.
For more on better aging, visit  Dr. Weil on Healthy Aging, Your Online Guide to the Anti-Inflammatory Diet.
Sources
Charisis S, Ntanasi E, Yannakoulia M, Anastasiou CA, Kosmidis MH, Dardiotis E, Hadjigeorgiou G, Sakka P, Scarmeas N. "Mediterranean diet and risk for dementia and cognitive decline in a Mediterranean population." J Am Geriatr Soc. 2021 Jun;69(6):1548-1559. doi: 10.1111/jgs.17072. Epub 2021 Mar 16. PMID: 33724444. https://pubmed.ncbi.nlm.nih.gov/33724444/
Berti V, Walters M, Sterling J, Quinn CG, Logue M, Andrews R, Matthews DC, Osorio RS, Pupi A, Vallabhajosula S, Isaacson RS, de Leon MJ, Mosconi L. "Mediterranean diet and 3-year Alzheimer brain biomarker changes in middle-aged adults.: Neurology. 2018 May 15;90(20):e1789-e1798. doi: 10.1212/WNL.0000000000005527. Epub 2018 Apr 13. PMID: 29653991; PMCID: PMC5957301.
Penninkilampi R, Casey AN, Singh MF, Brodaty H. The Association between Social Engagement, Loneliness, and Risk of Dementia: A Systematic Review and Meta-Analysis. J Alzheimers Dis. 2018;66(4):1619-1633. doi: 10.3233/JAD-180439. PMID: 30452410. https://pubmed.ncbi.nlm.nih.gov/30452410/
Wilson RS, Wang T, Yu L, Grodstein F, Bennett DA, Boyle PA. Cognitive Activity and Onset Age of Incident Alzheimer Disease Dementia. Neurology. 2021 Aug 31;97(9):e922-e929. doi: 10.1212/WNL.0000000000012388. Epub 2021 Jul 14. PMID: 34261788; PMCID: PMC8408511. https://pubmed.ncbi.nlm.nih.gov/34261788/
Originally Posted April 2007. Updated July 2022.