Sleeping Pill Safety?
I understand that the FDA recently warned that some prescription sleeping pills aren't safe. Why did it approve these drugs in the first place?
Andrew Weil, M.D. | June 6, 2019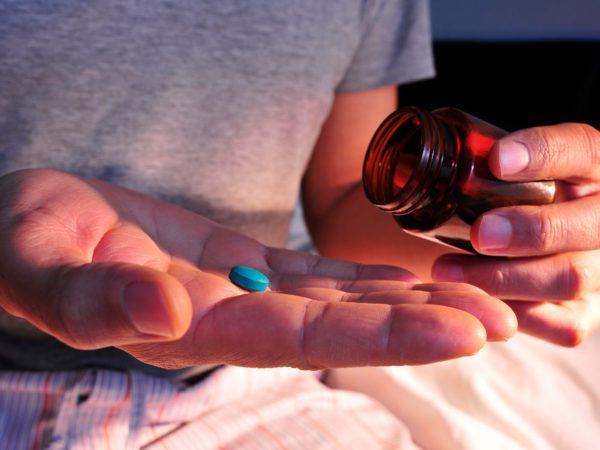 It's true that in April of 2019 the FDA issued warnings about dangers associated with taking three popular prescription sleeping pills, Lunesta (eszopiclone), Sonata (zaleplon) and Ambien (zolpidem). The new warnings came after the FDA received reports of 20 deaths and 46 serious injuries linked to these drugs. The injuries included accidental overdoses, falls, burns, near-drowning, exposure to extreme cold temperatures leading to loss of limb or near death, and self-injuries such as gunshot wounds and apparent suicide attempts.
The 20 deaths reported were from carbon monoxide poisoning, drowning, fatal falls, hypothermia, fatal motor vehicle collisions with the patients driving and apparent suicide.
Over the years, medical research has identified a number of serious health risks among people who regularly take sleeping pills. A study published in 2012 found that the risk of death is four to five times higher among people taking sleeping pills than it is among people who didn't take these drugs. Another ominous finding is that people prescribed the most sleeping pills had a 35 percent greater chance of developing a new cancer after 2.5 years of use.
In announcing the latest warning, FDA Acting Commissioner Ned Sharpless, M.D. said the adverse incidents associated with sleeping pills can occur after the first use, in individuals without any history of these behaviors, and even at the lowest recommended doses.
In 2013, the FDA recommended a lower bedtime dose of Ambien and generic zolpidem products because of data showing that in some patient's blood levels of these medications may be high enough the morning after taking them to impair alertness while driving or engaging in other activities. The Agency recommended that the dose for women be reduced from 10 mg to 5 mg for immediate-release products and from 12.5mg to 6.25 mg for extended release ones. It suggested that health care professionals consider prescribing the same lower doses for men.
Bear in mind that sleeping pills aren't as effective as you might assume. A 2018 study concluded that the recommended doses objectively increase sleep "little if at all, (that) daytime performance is often made worse (not better) and the lack of general health benefits is commonly misrepresented in advertising." Author Daniel F. Kripke, M.D., of the University of California San Diego recommended opting for alternatives such as cognitive behavioral treatment for insomnia and bright light treatment for circadian rhythm disorders as "safer and more effective" approaches than sleeping pills.
I agree. Primary care doctors generally do not have the training or time to effectively address insomnia. As a result, they are more likely to prescribe sleep aids or refer patients for unnecessary overnight sleep studies. I recommend consulting behavioral sleep medicine specialists for help in getting off these drugs and for integrative approaches to dealing with insomnia. Mindfulness-based stress reduction (MBSR) in particular, can be very useful in improving sleep as well as making it easier to taper off sleeping pills. I also recommend using natural remedies like valerian and melatonin.
Bottom line: except for short-term use to address situational insomnia (traveling across time zones, a death in the family), sleeping pills can do you more harm than good.
Andrew Weil, M.D
Sources:
Daniel F. Kripke, "Hypnotic drug risks of mortality, infection, depression and cancer: but lack of benefit," F1000 Research, Nov. 12, 2018  doi: 10.12688/f1000research.8729.3
Daniel F. Kripke et al, "Hypnotics' association with mortality or cancer: a matched cohort study," BMJ Open, Feb. 27, 2012, doi: 10.1136/bmjopen-2012-000850