Brain Boosting Strategy?
I'm over 50 and have been wondering if it is too late to make lifestyle changes that could keep my brain healthy as I get older. I read and use the computer a lot. Could adding physical exercise at this age help?
Andrew Weil, M.D. | July 27, 2017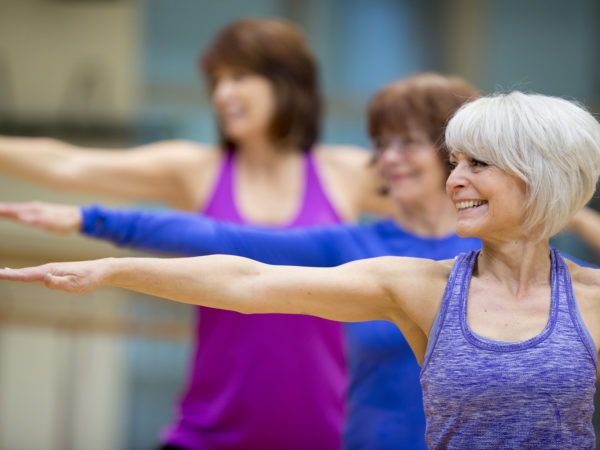 A fair amount of research has found that physical (as well as mental) exercise can benefit the brain as we age. Studies have shown that yoga, weight lifting and aerobic exercise all can help, and a newly published analysis suggests that even if you're over 50, a combination of aerobic exercise and strength training (resistance exercise) can have significant positive effects. The investigation, from Australia's University of Canberra, identified improvements regardless of the state of an individual's brain at the outset.
The researchers reviewed 39 studies to evaluate the impact of various types, intensity, and duration of exercise on the brain health of individuals aged 50 and older. In addition to aerobic activity and resistance training, the team looked at studies that combined both types of exercise as well as the effects of yoga and tai chi. Specifically, they observed that aerobic exercise enhanced cognitive abilities, while resistance training improved "executive function" (the processes by which we set and meet goals), memory (the ability to both store and retrieve information), and working memory (the short term use of information). The investigators also noted that while tai chi appears to improve cognitive abilities as previous research has indicated, so few studies were included in the analysis that they suggested a large clinical trial would be needed to confirm the results.
Ideally, each session of an exercise program to promote brain health should last between 45 and 60 minutes, require moderate to vigorous exertion and be done on as many days a week as possible. The limitations of the analysis are that it included only studies of supervised exercise programs and only studies published in English. Still, the researchers viewed the evidence as strong enough to recommend aerobic and strength training to improve brain health in individuals over 50. Even if you're able to exercise only once or twice a week, your brain will benefit, said study leader Joe Northey, although he emphasized that performing physical activities more often would be better.
Andrew Weil, M.D.
Source:
Joseph Michael Northey et al "Exercise interventions for cognitive function in adults older than 50: a systematic review with meta-analysis." British Journal of Sports Medicine, April 24, 2017, dx.doi.org/10.1136/bjsports-2016-096587