Turmeric For Knee Pain?
I heard that turmeric can relieve arthritis pain in the knees. If true, how much should I take?
Andrew Weil, M.D. | October 12, 2020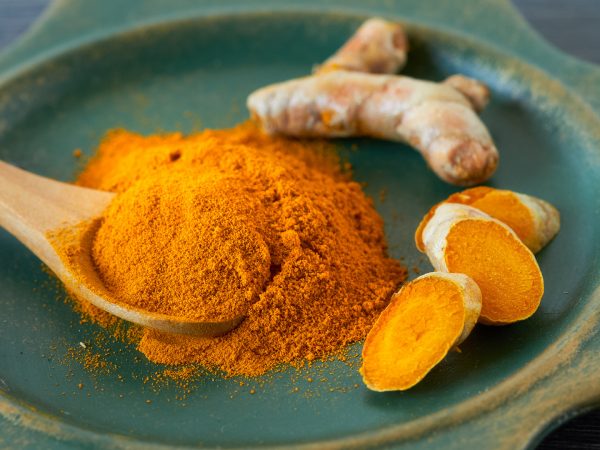 You may have heard about results of a recent study showing that the spice turmeric, may ease pain due to osteoarthritis of the knee. I've written earlier about these effects. Some clinical studies have shown that turmeric extract can improve symptoms of osteoarthritis (OA) by reducing pain and improving functionality. It also helps reduce the use of NSAIDs and other pain medications used to treat osteoarthritis.
The latest research was a 12-week randomized, double-blind, placebo-controlled trial in Australia involving 70 individuals with symptomatic knee arthritis. Some took two capsules daily of a Curcuma longa extract while the others took two capsules of a look-alike placebo. None of the participants knew whether they were taking the extract or the placebo.
The researchers reported that the pain, stiffness and physical function improved significantly more among patients who took the extract than among those who received the placebo. But MRIs revealed no difference in the excess fluid in the knee and no difference in knee cartilage structure.
Lead author Benny Antony, a researcher at the University of Tasmania, noted that the study was small, lasted only 12 weeks and that the effect of turmeric on knee pain was only moderate. But he added that considering the limited effectiveness of available treatments for osteoarthritis, even a modest effect may be helpful, and turmeric appears to cause no side effects.
Turmeric is available in powdered form as a culinary spice, and in tablets and capsules as medicinal extracts. It should be labeled as standardized turmeric extract or the compound, curcumin. It is considered safe when used appropriately and according to the label. Anyone with liver disease should use turmeric with caution, if at all.
There are no known drug interactions, but in rare instances, daily use of turmeric over an extended period of time may cause stomach upset or heartburn. Those taking medication for diabetes should be aware that turmeric may reduce blood sugar levels.
Do not take turmeric if you have gallstones or bile duct dysfunction, as it may cause gallbladder contractions. Turmeric also exhibits antiplatelet effects and may promote bleeding if used immediately before surgery. Discontinue use of turmeric two weeks before any surgical procedure.
Neither curcumin nor turmeric taken orally is well absorbed unless taken with black pepper or piperine, a constituent of black pepper responsible for its pungency. When shopping for supplements, make sure that the one you choose contains black pepper extract or piperine. (If you're cooking with turmeric, be sure to add some black pepper to the food.). Note that piperine can slow the elimination of some prescription drugs including phenytoin [Dilantin], propranolol [Inderal], and theophylline. Be patient when taking turmeric supplements: the full benefits may not be apparent for eight weeks.
Pregnant women should avoid turmeric due to the possibility of uterine stimulation. There is insufficient information for women who are nursing, so contact your doctor before taking it.
Andrew Weil, M.D.
Source:
Benny Antony et al, "Effectiveness of Curcuma longa Extract for the Treatment of Symptoms and Effusion – Synovitis of Knee Osteoarthritis," Annals of Internal Medicine, September 15, 2020, https://doi.org/10.7326/M20-0990