Plant Based Diet For Rheumatoid Arthritis?
I hear that following a plant-based diet can reduce pain in people with rheumatoid arthritis. Is this something I should try?
Andrew Weil, M.D. | November 14, 2019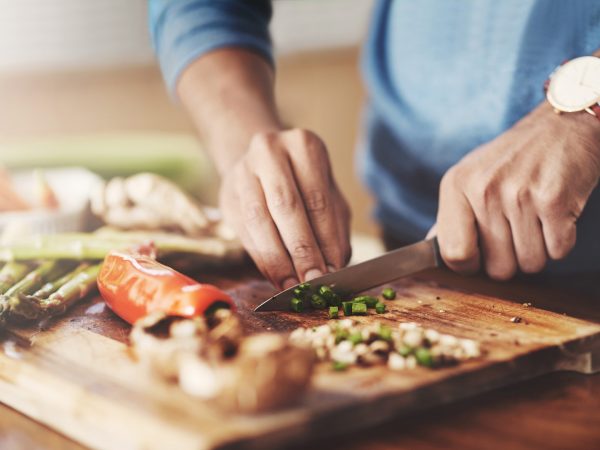 Rheumatoid arthritis (RA) is an autoimmune disease in which the immune system attacks tissues that surround and cushion the joints. Symptoms, which vary quite a bit from person to person, include swollen, warm, and painful joints, particularly after awakening or after long periods of inactivity.
The latest word on how diet can affect symptoms comes from researchers from the Physicians Committee for Responsible Medicine. This group reviewed many previous studies and clinical trials and concluded that "strong and consistent evidence" shows that a plant-based diet can reduce inflammation and improve the symptoms of RA. They elaborated on four ways this diet can help:
Reduced inflammation: The researchers cited a 2015 study showing reductions in inflammation among participants randomized to a two-month plant-based diet compared to patients whose diets were higher in fat and animal products. The team also noted that other studies have found that diets high in fat and processed meat are associated with increased inflammatory markers, including C-reactive protein.
Reductions in RA pain and swelling: The team reported that a randomized clinical trial investigating the effects of a low-fat vegan diet on patients with moderate-to-severe RA found that after only four weeks, participants experienced significant reductions in morning stiffness, pain, joint tenderness, and joint swelling.
Lower weight and weight loss: Being overweight increases the risk for developing RA and makes remission less likely when the disease already is present. They cited a 2018 analysis showing that RA patients who lost more than 11 pounds were three times more likely to experience improvements than those who lost less weight.
The investigators also noted that a high-fiber plant-based diet can help by altering the composition of gut bacteria and increasing bacterial diversity, which they said often is lacking in RA patients.
They also made the point that while more research is needed, the new findings add to evidence that diets rich in fruits, vegetables, whole grains, and legumes may be beneficial for autoimmune conditions. Other studies have found that plant-based diets may be protective against hypothyroidism, hyperthyroidism and multiple sclerosis.
Bottom line: there's no reason why you shouldn't try a plant-based diet to see if it helps. I should add that I have long advocated dietary measures to help control RA symptoms, including minimizing consumption of foods of animal origin. You can learn more about my recommendations for dealing with rheumatoid arthritis here.
Andrew Weil, M.D. 
Source:
Hana Kahleova et al, "Nutrition Interventions in Rheumatoid Arthritis: The Potential Use of Plant-Based Diets. A Review," Frontiers in Nutrition, September 10, 2019, doiorg/10.3389/fnut.2019.00141