Potato Gnocchi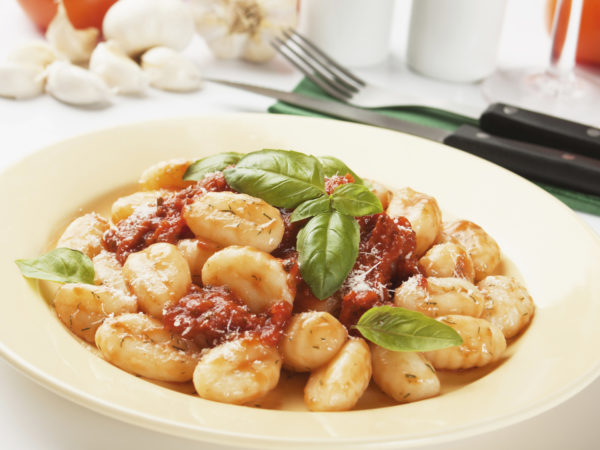 Nutrition
Serves 4
Nutrients Per Serving
Calories: 289.3
Protein: 8.1 grams
Fat: 0.7 grams
Saturated Fat: 0.1 grams
Monounsat Fat: 0.1 grams
Polyunsat Fat: 0.3 grams
Carbohydrate: 62.2 grams
Fiber: 3.4 grams
Cholesterol: 0.0 mg
Vitamin A: 97.5 IU
Vitamin E: 0.3 mg/IU
Vitamin C: 24.8 mg
Calcium: 18.9 mg
Magnesium: 36.8 mg
This recipe shows you how to make gnocchi which are tasty little dumplings, one of Italy's oldest pastas!
Gnocchi (pronounced "nyo-kee" and derived from the German word for "knuckle") are tasty little dumplings, and one of Italy's oldest pastas, dating back to the 12th century. Traditional ingredients vary from region to region, with recipes including potatoes, flour, semolina, ricotta cheese, spinach, and even bread crumbs. Potatoes are packed with complex carbohydrates, plenty of potassium, vitamins C and B-6, and lots of great minerals. When making gnocchi (a relaxing activity in itself), pinch each one to create an indentation to hold the sauce. Immediately let it fall to the floured surface so you handle the gnocchi as little as possible. Cook them right away if you can. Toss the dumplings into the bubbling water and savor the scented steam. Your gnocchi will emerge light and delectable.
Food as Medicine

The USDA's Agricultural Research Service, in a study in the September, 2007 issue of Agricultural Research magazine, reported that two varieties of potatoes studied – Red and Norkotah – had phenolic content rivaling that of broccoli and Brussels sprouts. Phenols are a large group of compounds that often have antioxidant, anti-inflammatory and anti-clotting properties, all of which are known to benefit cardiovascular health.
Ingredients
1 pound baking potatoes
1 3/4 cups unbleached white flour
1/2 teaspoon salt
Dash paprika
Dash grated nutmeg
2 tablespoons chopped fresh parsley
Instructions
Peel the potatoes, cut in quarters, cover with cold water, bring to a boil, reduce heat, cover, and cook until tender.
Drain and mash. You should have about 2 cups.
In a large mixing bowl, stir together the flour, salt, a few dashes of paprika and nutmeg, and the chopped parsley.
Add the warm potatoes and turn out onto a floured surface.
Knead just until dough is well mixed and not sticky.
Let rest for 15 minutes.
Roll chunks of dough on floured board into logs about 1 inch thick.
Cut into diagonal slices about 3/4 inch thick.
Bring a large pot of water to the boil. Add gnocchi.
After they rise to the surface, lower the heat and simmer for 10 minutes, uncovered.
Drain well and cover with your favorite pasta sauce.