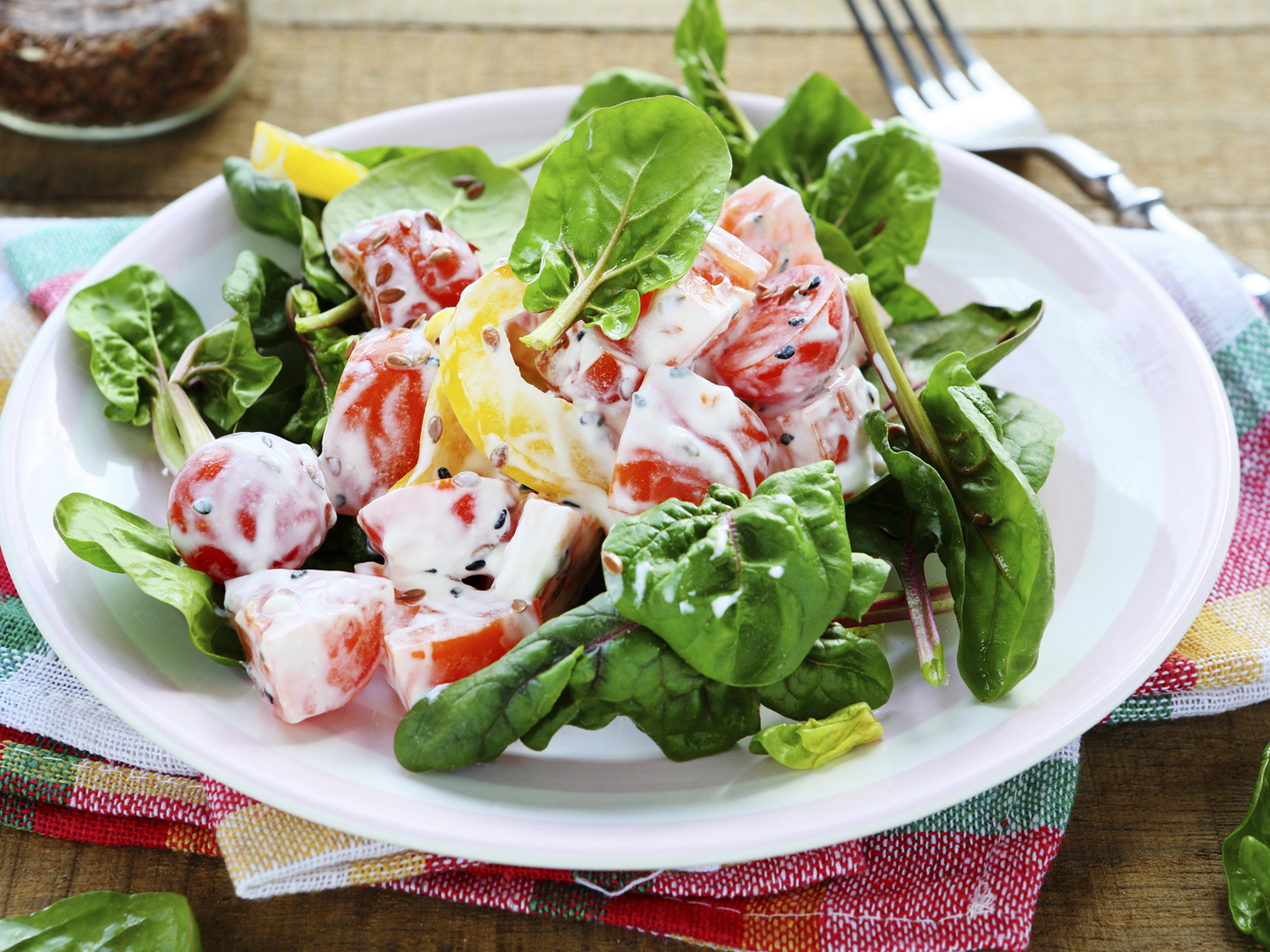 Turkish Spinach Salad
Nutrition
Serves 4
Nutrients Per Serving
Calories: 118.2
Protein: 5.2 grams
Fat: 7.7 grams
Saturated Fat: 1.2 grams
Monounsat Fat: 5.1 grams
Polyunsat Fat: 0.8 grams
Carbohydrate: 10.2 grams
Fiber: 4.4 grams
Cholesterol: 1.1 mg
Vitamin A: 8,096.3 IU
Vitamin E: 3.2 mg/IU
Vitamin C: 48.5 mg
Calcium: 166.6 mg
Magnesium: 104.3 mg
This garlicky salad is a nice way to eat spinach and a great way to get a nutritional boost. Use the best extra-virgin olive oil you can afford. Serve it with our Lentil Soup for a simple, delicious supper.
Watch a video of Dr. Weil demonstrating how to make Turkish Spinach Salad in his healthy kitchen.
Ingredients
1 pound fresh spinach, washed, stems removed
2 fresh tomatoes, sliced
6 scallions, trimmed and thinly sliced
5 tablespoons plain nonfat** yogurt
2 tablespoons extra-virgin olive oil
2 garlic cloves, minced
1/2 teaspoon dried thyme
Salt and black pepper to taste
Instructions
1. Dry the spinach, tear it into large pieces, and combine it with the tomatoes and scallions in a bowl.
2. Combine the yogurt, olive oil, minced garlic and thyme, adding salt and pepper to taste.
3. Add the yogurt mixture to the vegetables and mix well. Season to taste with salt and pepper.
** In light of recent research, Dr. Weil no longer recommends reduced-fat dairy products unless you happen to prefer the taste.
Want more healthy, delicious recipes? Join the Dr. Weil on Healthy Aging online guide for access to hundreds of anti-inflammatory recipes and our exclusive eating guides. Sign up today and get 14 days free!