Green Cabbage & Mushrooms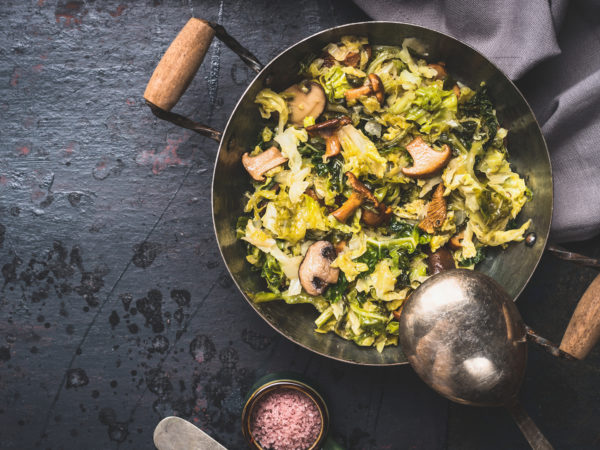 Nutrition
Serves 6
Nutrients Per Serving
Calories: 70.9
Protein: 2.7 grams
Fat: 2.8 grams
Saturated Fat: 0.4 grams
Monounsat Fat: 1.7 grams
Polyunsat Fat: 0.4 grams
Carbohydrate: 11.0 grams
Fiber: 3.5 grams
Cholesterol: 0.0 mg
Vitamin A: 157.1 IU
Vitamin E: 0.5 mg/IU
Vitamin C: 40.5 mg
Calcium: 60.9 mg
Magnesium: 23.3 mg
Cabbage is a true vegetable treasure, widely underappreciated. It is low-cost and highly nutritious.
A lovely combination of ingredients that expertly balance the cabbage and mushrooms: Smoky paprika and aromatic dill (you can use fresh or dried) go very well together. This is fairly easy to make and works wonderfully as side dish or the center of the meal. An additional bonus in this savory dish is the mushrooms. Use the more flavorful (and healthful) shiitake mushrooms if you can find them.
Food as Medicine
Along with the other cruciferous vegetables (broccoli, cauliflower, Brussels sprouts and kale), cabbage provides significant amounts of fiber, vitamin C and an important class of nutrients called indoles. Research on indoles is focusing on their ability to protect against both breast and prostate cancer. 
Ingredients
1 small green cabbage, cored and diced, about 6 cups
1 cup vegetable broth
1 tablespoon extra-virgin olive oil
1 medium onion, diced
1/2 pound mushrooms (shiitake, if possible)
1 1/2 tablespoons cornstarch mixed into 1/4 cup cold water
1 tablespoon fresh dill weed, chopped, or 1 teaspoon dried
1/2 teaspoon paprika
Salt and black pepper to taste
Instructions
In a covered pot over high heat, steam the cabbage in the stock for 5 minutes until it is just wilted and still bright green.
Remove from heat and remove cover.
While the cabbage cooks, heat the olive oil in a large skillet or wok, and sauté the onion and mushrooms until they brown.
Add the cabbage and heat through, mixing well.
Stir the cornstarch mixture well and add it to skillet. Bring mixture to boil, stirring, until liquid thickens.
Reduce heat and season to taste with dill, paprika, salt and pepper.